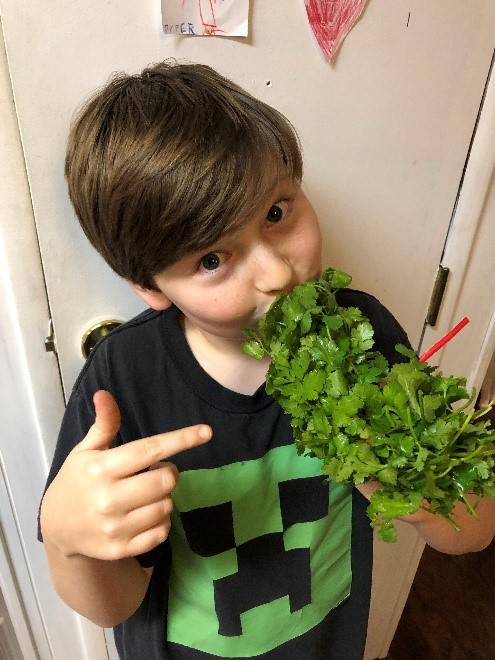 Based in Nevada City, Sierra Harvest is a non-profit organization whose mission is to educate, inspire and connect Nevada County families to fresh, local seasonal food. Sierra Harvest works to accomplish this mission by supporting activities for three key groups – children through its farm to school program, farmers through training and education, and the community through connecting people to local food.
Sierra Harvest's farm to school program has become one of the key ways Nevada County's students are learning about and eating more specialty crops. Celebrating its 10th anniversary this year, Sierra Harvest's farm to school program currently reaches 96% of K-8 students in western Nevada County. Sierra Harvest offers participating schools a variety of activities as part of its farm to school program, including harvest of the month, cooking lessons with guest chefs, field trips to local farms, farm-fresh produce on school garden carts, farmer visits to classrooms, spring plant sales and support for school garden initiatives. Because each school is unique, Sierra Harvest's Farm to School Director Marisha Finkler encourages schools to implement the program differently depending on their needs and priorities; this flexibility ensures there's a combination of activities that works for every school. In addition, Sierra Harvest works to keep the program affordable at $2 per student and assists schools with fundraising opportunities.
The core activity that is consistent across all farm to school participants is the harvest of the month program. Over the past 10 years, this program has introduced Nevada County students to 50 varieties of fruits and vegetables and provided over 50,000 pounds of local produce through monthly tastings. According to Finkler, Sierra Harvest has found that even picky eaters will try vegetables at school if they see other kids trying them. Finkler reports that over the past year, 72% of students tried something new through harvest of the month and, on average, Sierra Harvest has seen a 43% increase in students liking the items sampled through harvest of the month. Generously sponsored by BriarPatch Food Co-op, Sierra Harvest is currently providing monthly tastings of seasonal, fresh produce to 33 schools and other institutions such as Dignity Health and Cascade Senior Living.
In addition to farm to school activities, Sierra Harvest works to promote specialty crops in schools by supporting local procurement efforts. Sierra Harvest partnered with Nevada Joint Union High School and Nevada City School District to help launch Foothills Fresh, a scratch cooked school meal program featuring local organic foods. This new program served over 53,000 scratch cooked lunches in the 2017/2018 school year, more than doubling the number of students participating in school lunch.
According to Finkler, Sierra Harvest's farm to school efforts have grown more than just produce in Nevada County – they have also helped grow meaningful relationships between students, schools, farmers, guest chefs and the community. From harvesting produce in the field to preparing it in the classroom, these hands-on farm to school activities help students develop an understanding of where their food comes from and may even have impacts outside the classroom. Finkler notes Sierra Harvest has found that on average, 57% of participating students' families are buying farmer direct, including farmers markets, community supported agriculture memberships, farm stands, etc.
For more information about Sierra Harvest, including their harvest of the month newsletters and guest chef recipes, please visit their website. To hear what students are saying about the program, check out their YouTube channel or follow them on Instagram.
Stay tuned for more specialty crop school success stories in the coming weeks.
– CDFA Farm to Fork Staff
This article is part of a series highlighting organizations that are successfully promoting specialty crops in schools. Made possible by Specialty Crop Block Grant funding, these success stories aim to inspire similar efforts, ultimately increasing student access to, knowledge of, and demand for California specialty crops.