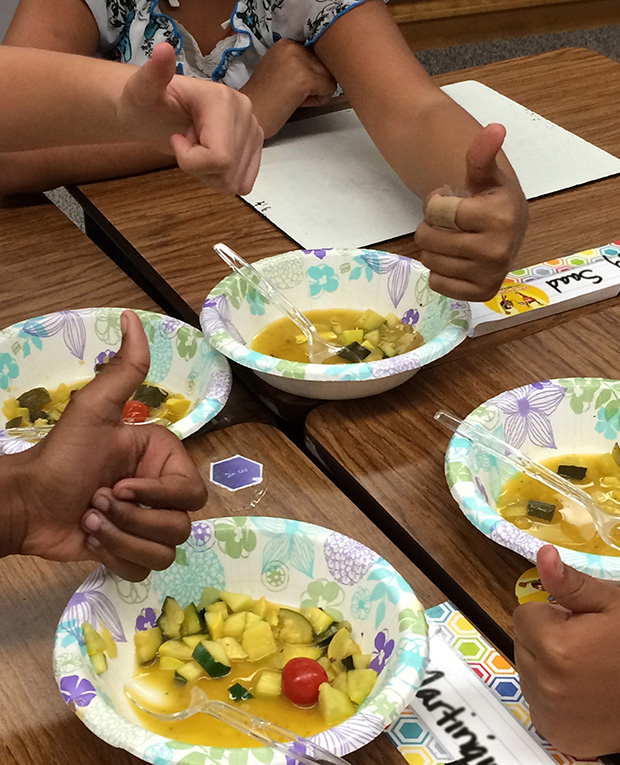 One of the great challenges of farm-to-school programs is taking the message from rural communities, "preaching to the choir," if you will, to communities with cultural frames of references other than agriculture. They could be urban communities or communities with geographical differences that make them, by nature, less familiar with farming and ranching.
In September, at the annual conference hosted by the California Foundation for Agriculture in the Classroom, we saw just such a partnership come together, and it's already paying dividends. Second-grade teacher Jami Beck of Three Rivers School, in a community of the same name in the Sierra foothills, watched a presentation by Visalia sixth-grade teacher Julie Cates and struck-up a classroom friendship that has resulted in their students becoming pen pals.
Last school year was Cates' first year teaching, and she has already made quite an impression. Cates incorporates her passion for nutrition and agriculture into her classroom each week through activities she shares on Twitter. Cates received a $500 Literacy for Life grant from Ag in the Classroom for teachers promoting hands-on agriculture. She used it to establish the #FindYourFavoriteFridays project, allowing her to bring different fruits or vegetables each Friday for students to taste. For her work in this area Cates was named the 2015 Outstanding Educator of the Year by Ag in the Classroom.
"I am in love with agriculture and nutrition education," Cates said. "I enjoy sharing my passion with students and opening their minds to all agriculture has to offer. I also try to help other teachers learn how they too can make agriculture part of their classrooms."
Beck, who has been teaching for 12 years, recognizes the importance of teaching students about agriculture. Her community is immediately surrounded by oak woodlands and foothills but lies within California's top agricultural county, Tulare County, where the most valuable communities produced are milk, cattle and calves, oranges and grapes. However, prior to attending the conference, Beck thought teaching the science aspect of agriculture seemed like a daunting task.
"I was always intimidated when it came to agriculture because I thought you needed to have a strong background in science," Beck said. "The conference gave me the confidence, connections and resources I needed."
Conference attendees could almost see the wheels turning in Beck's mind as she listened to Cates speak. The idea of introducing students to California-grown fruits, vegetables and nuts through was intriguing, and Cates made it sound practical.
Beck was inspired. She immediately returned to her classroom, and before the second-graders entered the room on Monday morning she had created a new bulletin board display titled, "I'm Ag-Excited, are you?" The next day the second-graders experienced their first #TryItTuesdays tasting – an opportunity to experience what may well be new fruits and vegetables for them.
"You should have seen my young students' faces when they saw the bulletin board. They can't wait to learn about agriculture," Beck said.
The students were not the only ones excited to learn more. Cates and Beck met up within three weeks after the conference to attend a seed propagation workshop. Before long, they had developed a new a project tying writing and agriculture together: a pen pal Ag-Venture.
"Dear 6th Grader," one of Beck's students wrote. "My name is Alice. I am in second grade. I love Try it Tuesday. My favorite thing so far was honeydew melon. What was your favorite thing to taste? What is your name? Do you like working in your school garden. Your friend, Alice."
Just like that, new friendships have sprouted between the two teachers and their 40 students. Both teachers have created agricultural experiences within their classroom walls, and they have opened their student's eyes to the agriculture that surrounds them.
The California Foundation for Agriculture in the Classroom helps connect, inspire and equip teachers throughout the state so they can make agriculture a part of their classroom. Follow @cates_julie and @mrs_jbeck on Twitter to keep up with their journey, and watch their seeds and students grow. For free teaching resources, grants and other agricultural education opportunities, visit LearnAboutAg.org.
Cross posted from Planting Seeds, by Jennifer Ray, California Foundation for Agriculture in the Classroom