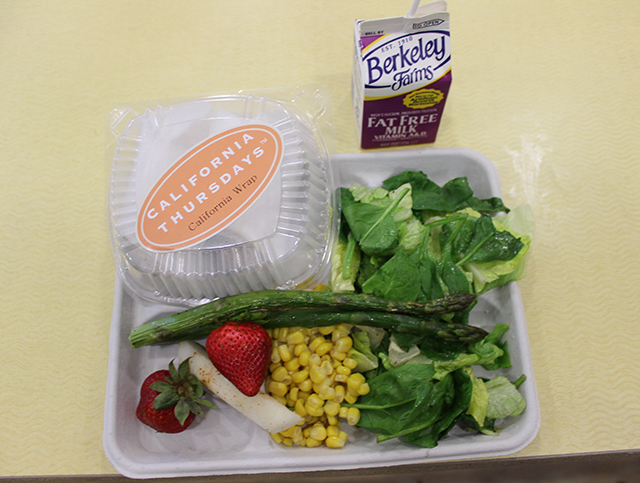 A celebration was underway this past Thursday at schools across Contra Costa County. Collectively, school districts are joining together to promote "California Thursdays" by offering freshly prepared items grown and produced in the state of California in cafeterias. California Thursdays™ is a collaboration between the Center for Ecoliteracy, a nonprofit advancing ecological K-12 education; participating school districts; the California Department of Food and Agriculture; and other allied organizations.  Schools take the opportunity to provide local items that may be new to many children, such as asparagus from Kings Crown Packing in Stockton and tofu from Tofu Yu in Berkeley. Many schools also have staff stationed at salad bars to encourage children to try new things, even if it is just a bite. "Some children have never tasted asparagus at home or may not have the opportunity to eat fresh strawberries. I want to bring them that experience," said Matt Belasco, Director of Child Nutrition at Pittsburg Unified School District. To kick off the event in Pittsburg schools, the District invited local media, area stakeholders, and state policymakers to taste their lunchtime menu.
Belasco welcomed over fifty attendees at Heights Elementary School in front of a colorful display of local fruits and vegetables provided by Daylight Foods. Speeches were made by Jim Houston, California Department of Food and Agriculture Undersecretary, Sandip Kaur, California Department of Education Nutrition Services Director, and Janet Schulze, Pittsburg Unified School District Superintendent. Each speaker stressed their support and enthusiasm for the program and all the hard work that goes into making changes in children's lives.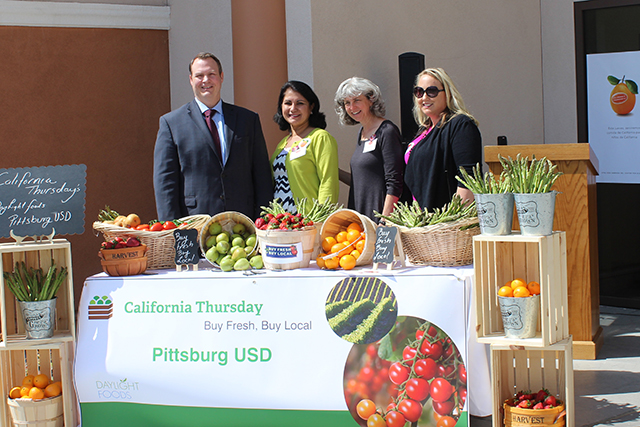 Belasco then led tours of the kitchen, cafeteria and schoolyard to show a number of educational and physical activities organized to get kids to move and learn more about healthy eating. The day ended with attendees queuing up with lunch money in hand for a meal with the students. Displayed along the lunch line were posters describing how asparagus is grown and where each item on the menu came from. School lunch trays varied in colors and shapes but most plates featured roasted chicken drumsticks, spinach and romaine salad, asparagus, and ripe strawberries – all from California.    Overall, the event demonstrated broad support for California Thursdays and the commitment of many community members to provide quality food and nutrition education to children.  California Thursdays will continue weekly in the Pittsburg Unified School District and monthly across the state.
-Nicole Sturzenberger