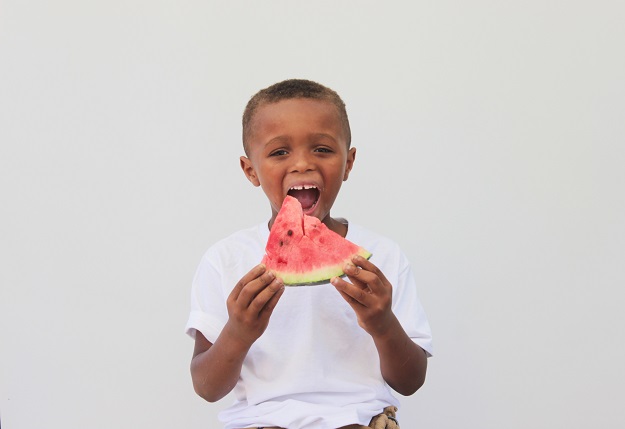 Summer in California is full of fresh produce. From the farmers' market to the grocery store, local fruits and vegetables are everywhere. Despite this bounty, many Californians lack access to these foods and summer can represent a time of hunger for low income families. Similar federal feeding programs to those that support children during the school year still exist, but attendance is significantly lower when school is out. To drive participation and take advantage of this special growing season, Natomas Unified School District Nutrition Services hosts an annual Summer Meal Celebration, a free meal, open to the general public. The day marks a time to bring the community together to eat good food and enjoy one another's company.
This year's celebration, held at Natomas High School, attracted 1200 attendees and served over 970 nutritious meals. The day was also a California Thursdays event, with all items sourced from within the state and freshly prepared by Natomas staff who barbequed on site, mixed salads, and cut hundreds of watermelon slices. The menu featured BBQ Airline Chicken from Modesto, a stone fruit slaw from Salinas, baked beans from Lodi, milk from Sacramento, a whole grain dinner roll from Dublin, and a kale salad from Salinas.  Natomas staff worked tirelessly to make the celebration a success and made everyone who attended feel welcome and part of the fun. During the summer months USDA runs the Summer Food Service Program and the Seamless Summer Option which provide nutritious meals to low income children under the age of 18. A generous donation from Sodexo made meals at the event available to all attendees so the entire family could eat together. The event also featured numerous vendors for attendees to visit, adding to the festive feeling. There was even a farmer's market with free local produce for families to take home.
The Office of Farm to Fork hosted a photo booth where attendees had their picture taken eating a fresh slice of watermelon. The melon was donated by Capay Organic/ Farm Fresh to You, which is active in advancing farm to school efforts in California. Individuals, families, and friends piled into the frame together to capture the moment. Photos were posted on the Office Flickr site for download later that day.
The event ended with staff and attendees line dancing and celebrating another successful Summer Meal Celebration. The activity aimed to show people how connecting with your friends, family, and community around healthy food is not only nutritious but also fun.
Check out the Office of Farm to Fork Flickr page to see more of the fun.