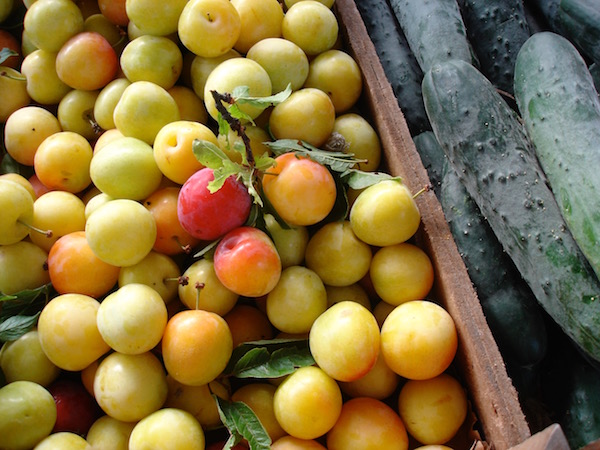 By Cathie Anderson
Chef Patrick Mulvaney and his team at Mulvaney's B&Lrestaurant in midtown Sacramento regularly butcher whole hogs themselves, carefully ensuring that they use every element of the animal, because food waste translates into lost revenue in the restaurant business.
So the cost-conscious restaurateur was stunned when he received research showing that 10 million tons of food goes unharvested or gets discarded on U.S. farms annually, even as one in seven Americans are insecure about where they will find their next meal. Here was a situation that Mulvaney – and indeed other chefs across the nation – wanted to help change.
"Everybody says there are going to be 9 billion people in 2050, and four or five years ago, people were saying, 'We're going to have to grow 40 percent more food to feed those 40 percent more people,' " Mulvaney said. "This (research) changes that conversation. Now people are saying it's a problem with distribution, not a problem with growth, because we have enough calories."
The research comes from ReFED, a group of more than 30 business, foundation, nonprofit and government leaders who took a look at food waste in the United States and analyzed how to reduce it not just at farms but at every level of the food chain. ReFED, an acronym for Rethinking Food Waste through Economics and Data, offers a road map for change that enlists farmers, grocers, restaurateurs, investors, consumers and government leaders.
The James Beard Foundation and the nonprofit Chefs Action Network have encouraged chefs known for emphasizing sustainability to get involved with raising awareness of the ReFED report and advocating for legislative changes that will encourage existing businesses, budding entrepreneurs and investors to find new uses for food that is going to landfills or rotting in fields.
Mulvaney recently joined other restaurateurs such as Chef Mourad Lahlou of San Francisco's Azizaand Mourad in lobbying for changes with legislators in Washington, D.C.Some actions don't require legislation, however, Lahlou and Mulvaney said. Their farm-to-fork restaurants have always encouraged growers to sell them fruit that is too ripe to survive a lengthy trip to grocery stores. They and other chefs now have begun encouraging farmers to also sell them their ugly produce – sunburned squash or cracked tomatoes – that they can't get wholesalers to market.
"We find that some of our farmers have trouble recognizing that we want that ugly produce," Mulvaney said. "If you're not going to sell it, give it to me – sunburned or damaged squash. I'm good with it. It's going in ravioli, so it doesn't matter. If the peaches are a little soft, they're going into jam. That's great. Let's make sure you get as much value out of your fields as you possibly can."
The chefs hope institutions such as hospitals, prisons and schools also look for ways to make use of farm-fresh produce that is slightly damaged. All too often, wholesalers refuse to distribute it to grocery stores because consumers see the product as inferior. Suzanne Peabody-Ashworth, the owner of Del Rio Botanical in West Sacramento, told me that she recently had some early season tomatoes that she couldn't sell simply because they had green shoulders and were cracked. Her staff and her flock of chickens consumed some, but others went unharvested.
Recognizing this flaw in the system, entrepreneurs at Emeryville-based Imperfect have begun to market imperfect produce to grocers at discounted prices. West Sacramento-based Raley'sis among the chains trying to develop a consumer market for these less-expensive fruits and vegetables. The Imperfect team said about 6 billion pounds of such produce is discarded annually in the United States, with California accounting for half of that.
Lahlou and Mulvaney say the Food Recovery Act, sponsored by Maine farmer and Democratic U.S. Rep. Chellie Pingree, provides tax incentives to make it more affordable for farmers to harvest and donate this imperfect produce to food banks. It also provides liability protection for those that donate wholesome food. The chefs are hoping that provisions in this legislation will become part of the 2018 Farm Bill.
This bill and the Food Date Labeling Act also are aimed at combating confusion about expiration dates, Lahlou said, because it turns out that the dates vary widely from state to state.
"We want to get all the states in America to agree on a reasonable date when things will expire, whether it's milk, eggs or whatever it is," Lahlou said. "We just want to make it realistic and make sure food does not get wasted. The date labeling initiative is really crucial."
If a carton of milk at his restaurants is even one day over its expiration date, Lahlou said, he must toss it out because if anyone gets sick, he could be sued and put out of business. For the same reason, he said, he can't allow employees to take the milk home. Instead, he said, it goes down the drain, even though everyone knows it's still edible.
Many consumers, he added, are tossing out milk because they think they will get sick just because the expiration date has passed. They don't smell it or taste it to see if it's still good, he said.
"It really depends on how good your refrigerator is," Lahlou said. "Some people have really strong refrigerators. They're accurate and calibrated, so that milk is going to last a lot longer. If your refrigerator is 20 years old and it's not working as well, even if the expiration date is a week away, if that milk smells bad, you're going to throw it away. You're not going to go by the expiration date."
The ReFED road map offers up 27 solutions to food waste, some of which are included in Pingree's legislation. Some, however, depend on existing and startup businesses taking a risk on developing markets for their products. It's what Imperfect is doing in Emeryville, and it's also what Capay Valley's Full Belly Farm has done.
Second-generation farmer Hallie Muller said: "We actually have built now a kitchen where we're using soft produce for jams and jellies. We're pickling things that we otherwise would not be able to sell. That whole aspect of our farm is really growing in the last couple of years. We feel like there is so much opportunity there."
Full Belly Farm sells these so-called value-added products at both stores and farmers markets, Muller said.