Before school let out for the summer three lucky classes from Pittsburg's Willow Cove Elementary and Rancho Medanos Junior High school got a special treat – a farm field trip at First Generation Farmers in Brentwood.
On the farm, the students attended different stations lead by volunteers from First Generation Farmers and Fresh Approach to learn about the cycle of life on the farm. First, they got to get their hands dirty and learn about the role of compost on the farm while hunting around the compost box for worms. After each student had caught a worm or two, they were off to the chicken coop. There, the students learned about different breeds of chickens and their eggs and tossed their worms to some lucky hens. Next, the group trekked over to the greenhouse to check out some seedlings. From there, they planted seeds and learned about organic farming techniques. Last but not least, the students picked three different varieties of kale – dino, Russian, and curly – and took home their harvested kale to share with their families.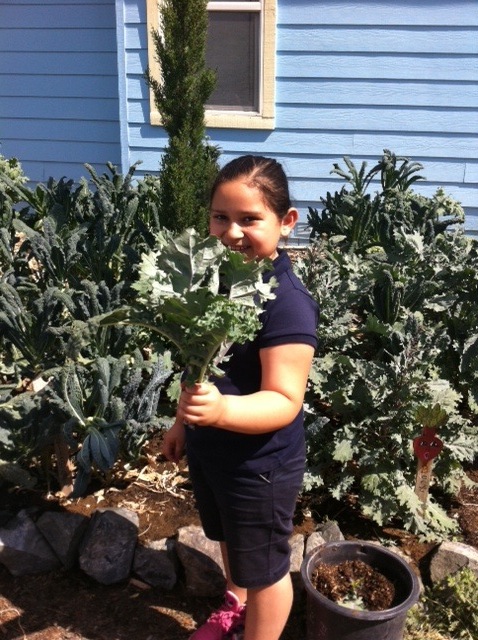 The trip was a great success and the culmination of a year of learning about where food comes from. With the support of the district's Child Nutrition Department and their dedicated teachers, the students cared for their own garden throughout the year. Not only did they get to learn about the process of growing food, but they got to eat it as well – both tasting the vegetables from their garden as well as increasingly local food served in the school cafeteria.
School might be out for the summer, but the staff at Pittsburg Unified is already planning for next year. With the help of a USDA Farm to School Grant, the district is planning to buy more fruits and vegetables from local farmers, plant more school gardens, and take more students on a field trip to the farm.