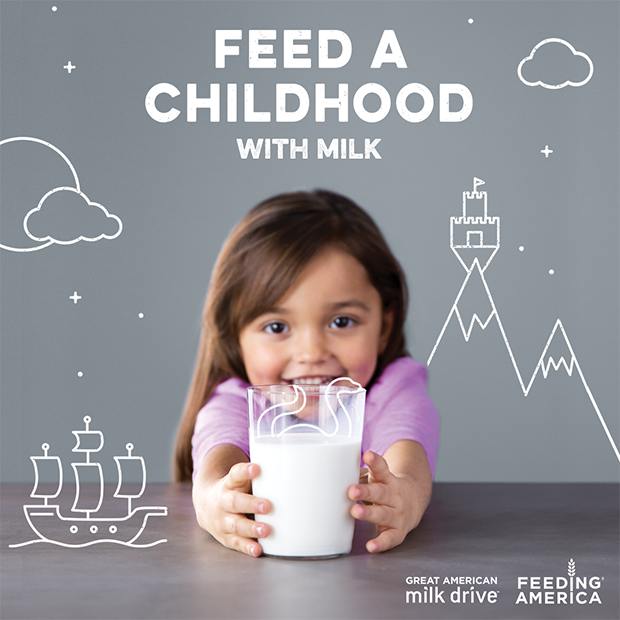 TRACY, Calif. — Milk is one of the most-requested staples at food banks, but among the least donated. On average, people served by food banks receive the equivalent of less than 1 gallon per person per year. To help fill this gap and support families in need in areas affected by hurricanes Harvey and Irma, California dairy farm families launched the Seals for Good social media challenge, which will provide up to 4,000 gallons of milk to families and children struggling with hunger.
"It is important to California's dairy farm families to help ensure access for all to nutritious milk and dairy foods. The need is especially acute with so many families affected by the recent hurricanes," said John Talbot, CEO of California Milk Advisory Board and Real California Milk. "Products like cheese, butter, yogurt, cottage cheese and ice cream with the Real California Milk seal are available throughout the U.S., which makes the Seals for Good campaign an easy way for people to support the people in need with just a simple social media post."
Social Media Challenge: Post a photo of a dairy product (cheese, yogurt, cottage cheese, butter, ice cream) showing the Real California Milk seal on Facebook or Instagram using the hashtag #SealsForGood.
Timing: Kicks off September 25, 2017 and runs through December 31, 2017
Donation: For each qualifying post, $5 – representing a gallon of milk – will be donated to the Great American Milk Drive (up to $20,000 total) through Feeding America to provide vouchers for fresh milk to families in need in Florida and Texas.
"Providing fresh milk to people in need is always challenging, but it's especially difficult for food banks during times of crisis," said Nancy Curby, SVP of Corporate Partnerships & Operations at Feeding America. "Feeding America is grateful for the ongoing support of the dairy industry, and it's wonderful to see our partners step up to help people when they need it most. We know that giving our network the ability to distribute fresh milk will help relieve some stress for families in disaster-affected areas as they work to rebuild."
Each year, more than 46 million people, including 12 million children, are served by Feeding America, the nation's largest domestic hunger-relief organization. It has a nationwide network of 200 food banks and 60,000 food pantries and meal programs.
Visit milklife.com/give for more information on the Great American Milk Drive.
***Cross-posted from Morning Ag Clips from October 1, 2017***