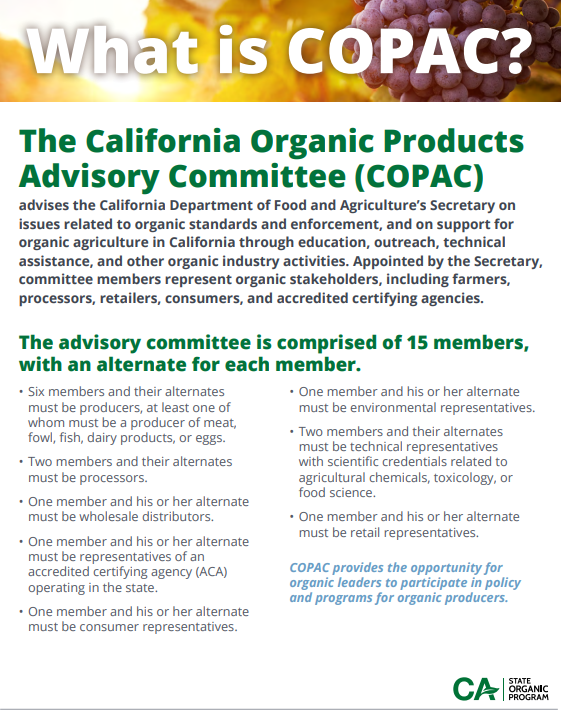 The California Department of Food and Agriculture (CDFA) is announcing vacancies on the California Organic Products Advisory Committee (COPAC).
COPAC advises the CDFA secretary on matters pertaining to the California State Organic Program (SOP). The SOP is responsible for enforcement of federal and state laws governing organic production, and administration of the organic program in the state. There are currently more than 4,700 organic operations registered with CDFA.
The current vacancies include wholesale distributor representative; technical representative; consumer representative; producer representative alternate; wholesale distributor representative alternate; processor representative alternate; retail representative alternate; environmental representative alternate; technical representative alternate; and consumer representative alternate.
The term of office for committee members is three years. While members do not receive compensation, they are entitled to payment of necessary traveling expenses in accordance with the rules of the California Department of Human Resources.
Individuals interested in being considered for an appointment should complete the Prospective Member Appointment Questionnaire (PMAQ) available at https://www.cdfa.ca.gov/is/organicprogram/pdfs/copac/COPAC-PMAQ.pdf and obtain a letter of recommendation from an industry member. Applications will be accepted until the positions are filled.
Applications should be sent to Thomas Osborn, CDFA Inspection and Compliance Branch, 1220 'N' Street, Sacramento, CA 95814 or via e-mail to Thomas.Osborn@cdfa.ca.gov.
For further information on the California State Organic Program and COPAC vacancies, contact Danny Lee via email at Danny.Lee@cdfa.ca.gov.