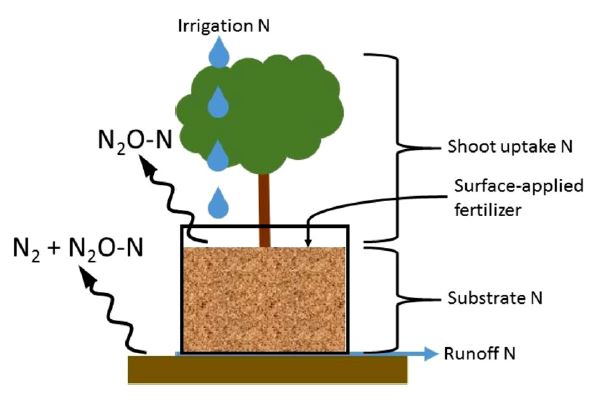 The California Department of Food and Agriculture (CDFA) Fertilizer Research and Education Program (FREP) blog, Research Update: Nitrogen Management for Container Plant Production, reviews a FREP-funded project measuring nitrogen (N) input and output from a woody ornamental plant production system to understand the fate of incorporated controlled-release and surface-applied fertilizer.
Background: A large proportion of groundwater in the Central Valley is currently experiencing nitrate contamination because of inefficient irrigation and fertilization. The Central Valley Regional Water Quality Control Board requires growers to complete an Irrigation and Nitrogen Management Plan (INMP) annually to document N inputs and outputs from production areas. Existing knowledge gaps prevent wholesale container plant growers from accurately filling out the INMP Worksheet. To assist growers in filling out the INMP Worksheet, a system N balance was developed for a woody ornamental nursery production system.
Approach: A woody ornamental was grown for 81 days in containers filled with Douglas fir bark soilless substrate. The experiment consisted of four lined and four unlined experimental beds for runoff capture. Nitrogen inputs measured included: substrate with controlled-release fertilizer and roots incorporated, irrigation water, and surface-applied fertilizer (Figure 1). Harvested product N outputs included: the substrate, including roots and remaining fertilizer, and plant shoots at end of the production cycle (Figure 1). Additional outputs included gaseous N emitted from the substrate and aqueous N that was leached from the substrate or applied as irrigation water and flowed off the growing beds during the production cycle (Figure 1).
Results: View the FREP blog.