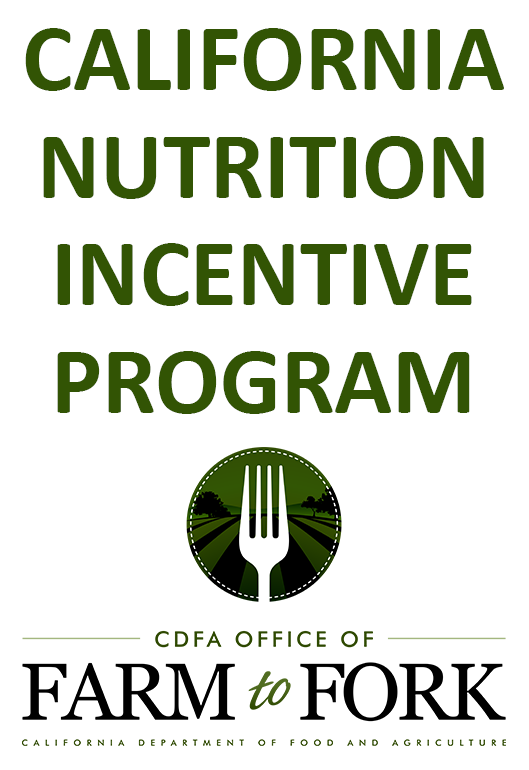 The California Department of Food and Agriculture Office of Farm to Fork (CDFA-F2F) is currently accepting proposals for the 2022 California Nutrition Incentive Program (CNIP). The intent of this request for proposals (RFP) is to solicit project proposals that CDFA-F2F may combine into one California application for federal funding of up to $31 million through the USDA Nutrition Incentive Program.
CNIP supports shoppers using nutrition benefits such as CalFresh by providing a dollar-for-dollar match for every benefit dollar spent on fruits and vegetables at participating sites. CNIP incentives enable benefit recipients to purchase nutritious, locally grown fresh fruits and vegetables for their families while supporting California farmers.
For this request, CDFA-F2F is seeking project proposals from qualified entities to distribute incentives at Certified Farmers' Markets, Community Supported Agriculture sites, farm stands, and small brick and mortar retailers throughout California.
Applications must be submitted by email to cafarmtofork@cdfa.ca.gov, no later than 6 p.m. (PDT), May 16, 2022. Further information on the grant program, including the RFP, timeline and application criteria are available at: https://cafarmtofork.cdfa.ca.gov/cnip.html.
CNIP supports locally grown produce and improves nutrition access and security for all Californians. Governor Newsom and the California Legislature have continually offered an investment of state funds to leverage federal grants to support this nutrition equity initiative.