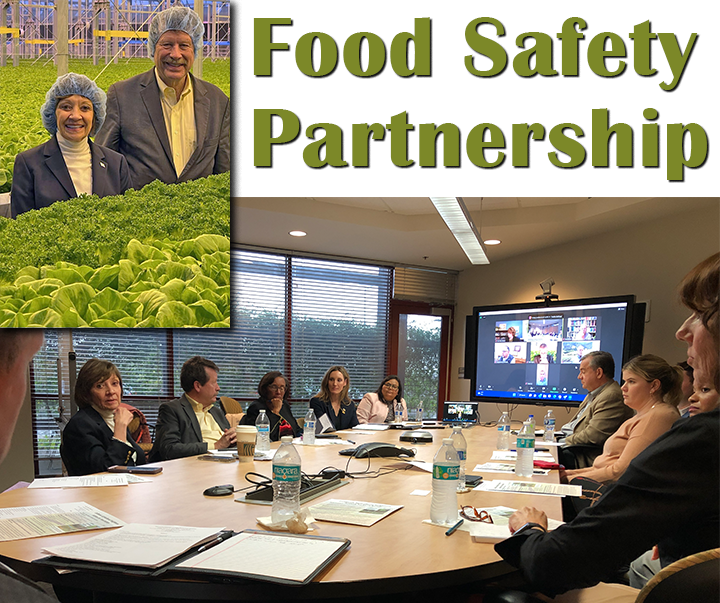 CDFA Secretary Karen Ross and U.S. Food and Drug Administration Commissioner Robert Califf met to take a tour of Gotham Greens in Davis (top photo) before attending a roundtable discussion at the University of California Agriculture and Natural Resources (UCANR) to identify opportunities to coordinate and advance a comprehensive prevention strategy to enhance food safety in California.
Partners in the discussion included CDFA, the FDA, UC Davis, UCANR, California State University, the office of Congressman Mike Thompson, Western Growers Association, D'Arrigo California, the California Leafy Greens Marketing Agreement, the Monterey County Farm Bureau, the Grower-Shipper Association of Central California, and the Center for Produce Safety.
The roundtable was a continuation of the California Agricultural Neighbors Initiative promoting collaboration and open communication toward advanced food safety in California.
Secretary Ross: "We deeply appreciate the collaborative working relationship with FDA on all aspects of food safety and the implementation of the Food Safety Modernization Act.  This was a very constructive discussion with leaders across the produce sector, and I want to thank CDFA Inspection Services Director Natalie Krout-Greenberg for organizing the day and Commissioner Califf for spending time with us and participating in some excellent discussions."  
Click here to view this original post on the CDFA Planting Seeds blog.