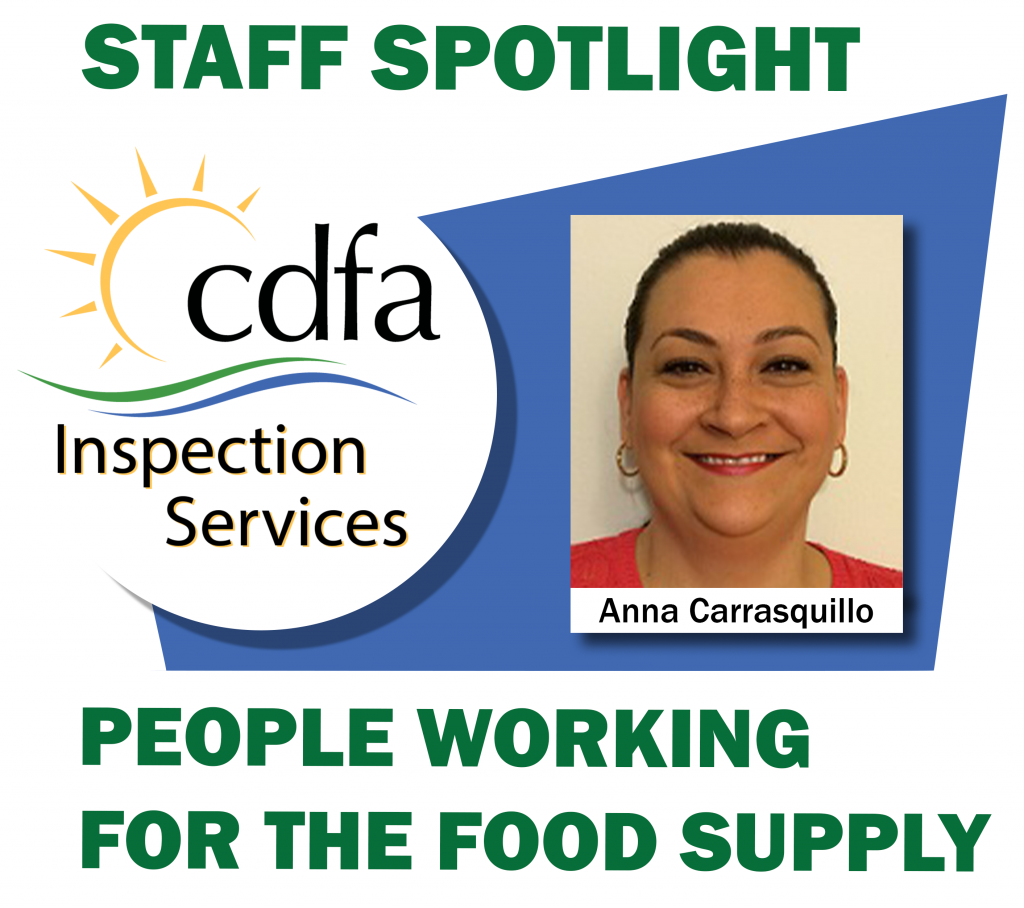 NAME: Anna Carrasquillo
YEARS AT CDFA: 7
PROGRAM: Standardization
TITLE: Fruits & Vegetables QC Supervisor II
HOW DO YOU WORK FOR THE CALIFORNIA FOOD SUPPLY? As part of the Standardization team, I work inspecting fresh fruits and vegetables by preventing any substandard product reaching any channels of commerce and protecting the nation's food chain.
USUAL DAILY ACTIVITIES ON THE JOB? As a supervisor, I train and assist county personnel with inspections on the different commodities we inspect. I also perform inspections at production, packing houses, wholesale and ports of entry by enforcing minimum standards including labeling, maturity and quality compliance. In addition, I answer questions asked by industry or parties interested. I am assigned to oversee the Southern California area, but on occasions you can find me working in the Central and Northern California areas.
THOUGHTS OF WORKING AT INSPECTION SERVICES? I really enjoy working for Inspection Services because it has taught me about the process that the food goes through from production to our tables. I never knew how long or involved the process is to ensure compliance.
PHILOSOPHY OF LIFE? Shoot for the moon. Even if you miss, you'll land among the stars. – Les Brown
SOMETHING UNIQUE ABOUT YOU? I have a positive outlook on life, I enjoy doing 5Ks and will be doing my first half marathon this year. I love dogs, traveling, movies and hanging out with friends. I am from Puerto Rico and always enjoy being able to visit there and spend time with my family.