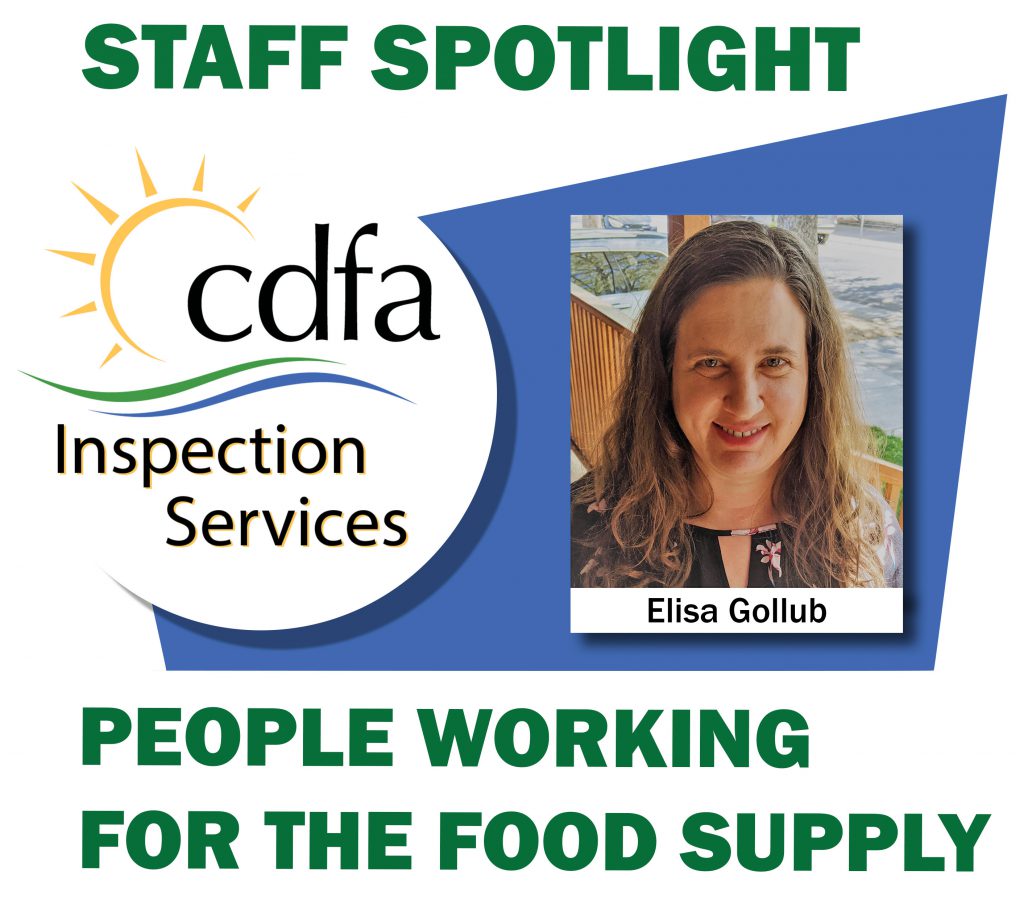 NAME: Elisa Gollub, Ph.D.
YEARS AT CDFA: Almost 2.5 years
PROGRAM: Office of Farm to Fork
TITLE: Impact & Communications Lead / Research Data Specialist II
USUAL DAILY ACTIVITIES: I try to take a walking break or walking meeting most days. I first joined CDFA to help design and run the pilot Healthy Stores Refrigeration Grant Program, and recently moved into a role focused on evaluation and metrics for Farm to Fork programs, as well as communications. I still consult with grantees frequently on issues that arise and work closely with colleagues to coordinate evaluation efforts.
HOW DO YOU WORK FOR THE CALIFORNIA FOOD SUPPLY? I support food access and food security in our efforts to connect consumers and students with fresh, California-grown produce that is accessible and affordable for everyone.
MEMORABLE MOMENT ON THE JOB: One of my first days on the job, I accompanied colleagues on a California Nutrition Incentive Program site visit in the North Bay Area – and surprisingly had the chance to draw on my background in Russian history when it turned out there was no translator for the Russian-speaking older adults participating in the incentive program at the farmers' market that day. I found myself standing in the rain translating for the group so they could use their incentives to get double value for the produce they wanted.
PHILOSOPHY OF LIFE: Keep learning.
ANYTHING ELSE YOU WOULD LIKE TO SAY? I look forward to walks and coffees with colleagues when things get back to normal!