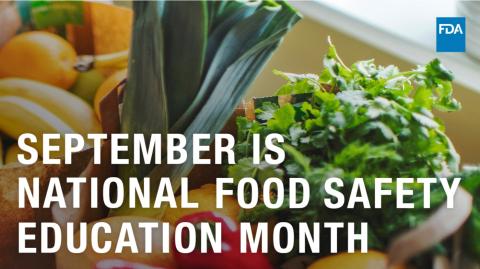 CDFA joins the U.S. Food and Drug Administration (FDA) and other state and federal partners in recognizing September as National Food Safety Education Month. CDFA also celebrates FDA's recent announcement to form a new, unified Human Foods Program, with James "Jim" Jones as its first Deputy Commissioner.
"We are happy to see Jim Jones accept this position," CDFA Secretary Karen Ross said. "We look forward to his work in FDA's new Human Foods Program continuing to elevate the importance of food safety and nutrition in all things that we know and do across our food programs – from field work to providing healthful, nutritional accessibility for all."
The agriculture industry also has been helping lead advancements in food safety, including through the California Leafy Greens Products Handler Marketing Agreement (LGMA) and Western Growers.
"Our California agriculture community is leading the way for food safety like no other place worldwide," said De Ann Davis, Western Growers, Sr. Vice President, Science. "We owe this to our consumers because of how much of an agricultural state we are. Through continued strategic planning with CDFA, FDA, CA LGMA, the California Department of Public Health, and many others, we look forward to continued progress in food safety."
As California partners continue to look ahead and collectively advance food safety, highlights include:
California Agricultural Neighbors Action Report and Subcommittee Work
A collaborative effort since 2021 between California farmers, ranchers, shippers, handlers, composters, regulators, academia and more to reduce outbreaks of pathogenic Escherichia coli (E. coli) O157:H7 associated with leafy greens in the Salinas Valley resulted in the publication of California Agricultural Neighbors: Neighbor-to-neighbor best practices to help enhance localized food safety efforts in June 2022. In the past year, work groups have been meeting on each of the report's action steps, including: Action 1. Foster Neighbor-to-Neighbor Interactions and Conversations; Action 2. Build a Research Roadmap for the Salinas Valley; Action 3. Create a Quantitative Microbial Risk Assessment (QMRA) Framework; and Action 4. Build and Maintain Capacity to Transfer Knowledge from Research into Applied Practice.
California Longitudinal Study
Underway since 2020, the California Longitudinal Study (CALS) is focused on addressing outbreaks of E. coli O157:H7 along California's coastal growing region, including the Salinas Valley. It is a partnership between California's leafy greens, cattle, viticulture and compost producers, the UC Davis Western Center for Food Safety, and state and federal partners, including FDA's Center for Food Safety and Applied Nutrition. CALS is the first study in the Salinas Valley region focused on metagenomics, a genomic sequencing tool that can examine changes in entire microbial communities to identify environmental factors that significantly contribute to the introduction, persistence, growth (or die-off) and spread of foodborne pathogens. The findings from this multi-year study will contribute to a better understanding of the impact various environmental factors, including drought and climate change, can have on food safety, which can be used to refine best practices for growers so they may continually improve the safety of their products.
CDFA Technical Assistance Program
The CDFA Technical Assistance Program (TAP) is continuing to partner with University of California Agricultural and Natural Resources (UCANR) UC Cooperative Extension (UCCE) Specialists to conduct food safety workshops in various languages and locations throughout California to help all small farmers understand and comply with the federal Food Safety Modernization Act (FSMA) Produce Safety Rule.
New Era of Smarter Food Safety
CDFA is working to align efforts with the U.S. Food and Drug Administration (FDA) in its New Era of Smarter Food Safety that leverages technology and other tools and approaches to create a safer and more digital, traceable food system. In June, CDFA received funding from the California Department of Technology's Technology Modernization Fund to develop a database for the CDFA Produce Safety Program to be more efficient in scheduling FSMA Produce Safety Rule inspections and organizing farm information.
Click here to view this original CDFA Planting Seeds blog post.