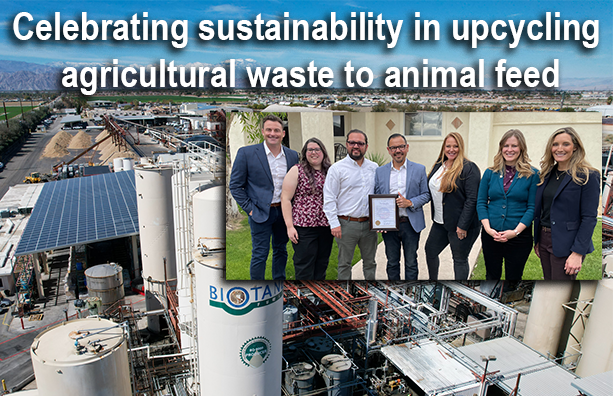 CDFA leadership attended a ribbon cutting this month to mark the activation of a large solar energy system at the Denali Imperial Western Products (IWP) facility in Coachella. Partly funded by a grant from the California Energy Commission, this new system will provide enough power to cover one-third of the electricity used at the facility. It is estimated to reduce energy usage by 35% and reduce carbon dioxide emissions equivalent to taking 140,000 cars off the road each year.
Denali is a nationwide organic waste management company, and the Coachella facility models its processes after the U.S. Environmental Protection Agency's Food Recovery Hierarchy. Each year, Denali IWP handles hundreds of thousands of tons of bakery waste, salvaged and distressed pet food, recalled and off-spec human grade food, and used cooking oil. This landfill diversion avoids landfill emissions of 672,840 metric tons of carbon dioxide equivalent per year, based on the CalRecycle Waste Diversion Greenhouse Gas Calculator.
The facility transforms agricultural organic waste into cattle feed and the used cooking oil (UCO) is refined into biodiesel. In 2022, Denali IWP converted UCO into more than 10 million gallons of biodiesel and produced more than 33,000 tons of bakery and cottonseed animal feeds, mostly supplied to California dairy farms.
Denali IWP's work contributes to fulfilling the mandates of California Assembly Bill (AB) 32 to reduce greenhouse gas emissions, as well as legislation requiring businesses to recycle organic waste and reduce the amount of organic waste going to landfills.
"CDFA is proud to celebrate our partners in animal food production reducing energy costs and reducing greenhouse gas emissions through renewable energy projects like these," said Virginia Jameson, CDFA Deputy Secretary for Climate and Working Lands, who attended the ceremony. "We congratulate Denali's Imperial Western Products for their innovative thinking and encourage other partners to do the same."