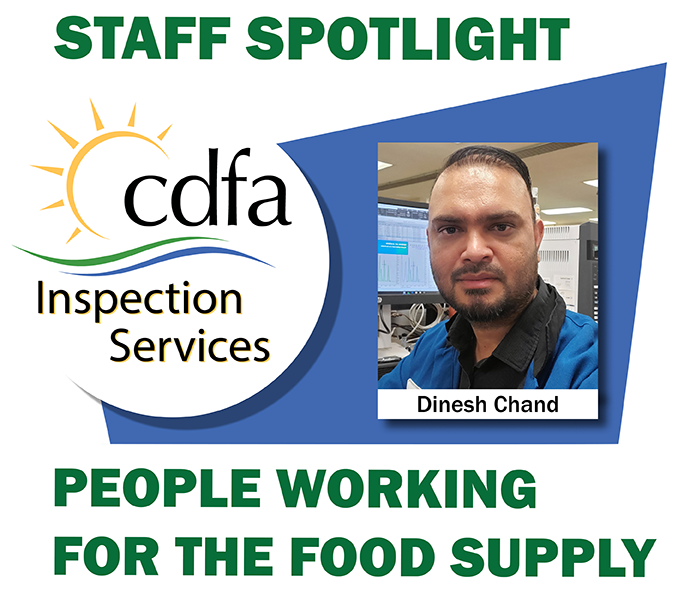 NAME: Dinesh Chand
YEARS AT CDFA: 9
PROGRAM: Center for Analytical Chemistry Environmental Safety Laboratory
TITLE: Environmental Scientist
USUAL DAILY ACTIVITIES ON THE JOB? I use state-of-the-art equipment and processes to analyze environmental and regulatory samples. I am involved in projects from different clients; therefore, my assignments vary. My work is fascinating and challenging because each project has unique regulations requiring a different skill level, technical expertise and instrumentation technique. In the absence of an approved method, I conduct research and method development studies.
HOW DO YOU WORK FOR THE CALIFORNIA FOOD SUPPLY? I provide accurate and legally defensible analytical data to various programs so that these enforcement and regulatory agencies can effectively carry out their function of protecting the California environment and food supply. I think the work we do in the lab is very crucial to the health and safety of California residents and the products they rely on day in and day out.
THOUGHTS OF WORKING AT INSPECTION SERVICES? The work that I do is indeed a big deal in protecting the health and safety of the public, farmworkers and farm animals. The opportunity to work in this laboratory using the most advanced and state-of-the-art technology that is currently available in the market allows me to overcome many challenges and makes me feel proud.
MEMORABLE MOMENT ON THE JOB? I looked forward to the State Scientist Day at the State Capitol every year before the pandemic. It used to be an annual event that included a science fair for students from many local schools. Together with my colleagues we demonstrated fascinating, hands-on experiments to future scientist. The memorable events included kick-off meetings, preparations and showcasing "How cool it is to be a scientist!"
PHILOSOPHY OF LIFE? Have patience and it is worth improving yourself first. I love this quote from Maya Angelou, "People will forget what you said, people will forget what you did, but will never forget how you made them feel."
ANYTHING ELSE YOU'D LIKE TO SAY? I come from a small town – Tavua in Fiji. Growing up in agriculture farmland isn't surprising at all if you are in Fiji. However, working as a scientist with CDFA and continuing a fun-loving scientific career and still being part of the food and agricultural community is unimaginable and breathtaking.