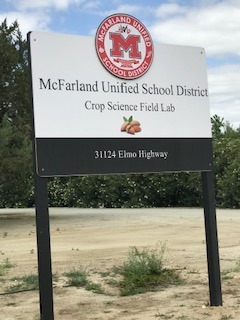 During National Farm to School Month, CDFA continues to recognize and thank partners across California helping to improve the wellbeing of students through food-based education and equitable access to healthy food. One such partner is the McFarland Unified School District in Kern County, which is a grantee of the CDFA Farm to School Incubator Grant Program.
In 2021, the school district received funding to provide a healthy food curriculum to all students, exploring where their food comes from and how to make healthy choices. The funding also will help high school Ag Farm students learn how to produce and process almonds through an 80-acre Crop Science Field lab.
The school district is providing field instruction through a strong partnership with the McFarland chapter of Future Farmers of America (FFA). This partnership was recently featured in the PBS series "American Grown: My Job Depends on Ag." The video highlights how important FFA and ag programs are for helping students gain insight for careers in agriculture.
Click here to view American Grown: My Job Depends on Ag | McFFArland, USA, and see how agriculture in McFarland is shaping young lives and how their world contrasts against other FFA programs in the Valley.
Click here to view this original post on the CDFA Planting Seeds blog.