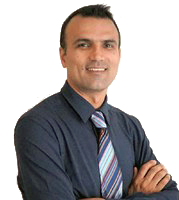 California Department of Food and Agriculture (CDFA) Center for Analytical Chemistry Branch Chief Barzin Moradi, Ph.D., recently completed the UC Davis Professional Coaching for Life and Work Certificate Program. During the six-month program, Barzin demonstrated coaching abilities at the Professional Certified Coach level.
"To be successful as an individual, we need the self-awareness to recognize the opportunities and threats and the mental capacity to change the way we do things that are not working anymore," Barzin said of why he enrolled in the coaching program. "Insight alone is not going to push us forward in our work and life. We need to tap into our personal power. Coaching can do this through a deliberate focus on our inside, finding 'what is right' and using that to our advantage."
Barzin plans to utilize newly learned coaching skills in his professional life by focusing on CDFA staff development.
"Whether it is in the lab or our entire department, the biggest resource that we lean on is staff," he said. "We truly depend on staff ingenuity, expertise and innovation to adapt to new environments and technology. We need to focus on staff development and be intentional about it, one independent coaching session at a time."
CDFA's Center for Analytical Chemistry is part of the Inspection Services Division.