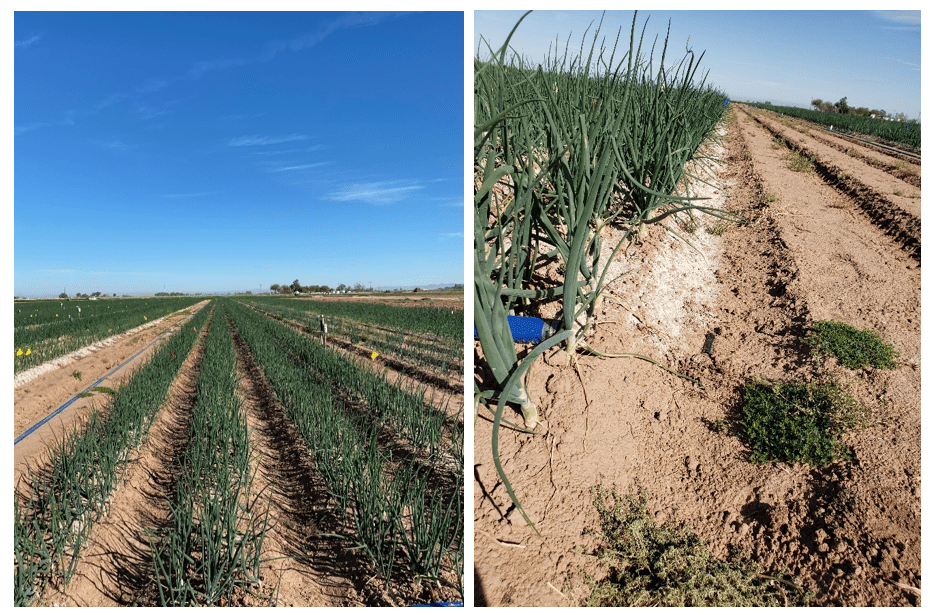 The California Department of Food and Agriculture (CDFA) Fertilizer Research and Education Program (FREP) posted a blog: Research Update: Drip Irrigation and Nitrogen Management of Onions.
The post, which is part of a "Research Update" series that highlights projects funded by the FREP competitive grant program, examines the first year of a three-year project, "Assessing Drip Irrigation and Nitrogen Management of Fresh Onions Produced in California Low Desert," by Jairo Diaz, Director, Desert Research & Extension Center, University of California, Division of Agriculture and Natural Resources (UCANR).
Overview: This FREP-funded project evaluates the response of onions to irrigation regimes and compares onion production under different nitrogen (N) fertilizer application rates. This project also communicates findings directly to growers, as well as to crop advisors, academics, regulatory bodies, and the agriculture industry.
Background: California's Imperial County is one of the largest onion production regions in the nation and relies heavily on the Colorado River for irrigation. To prevent soil salinization and enhance agricultural production in Imperial County, growers apply excess water to leach salts from the root zone. Excess irrigation, as well as municipal and industrial discharges from the Imperial, Coachella, and Mexicali valleys, flow into the Salton Sea, resulting in high concentrations of nutrients, salts, and toxic compounds. Growers must adopt improved irrigation and nutrient management practices to reduce water pollution from excess nutrients in California's low desert region.
Approach: Researchers used sprinkler irrigation for crop emergence to ensure adequate establishment and afterward, applied irrigation regimes using drip irrigation. Irrigation treatments consisted of 40, 70, 100, and 130% of crop evapotranspiration (ETc) and in-season N treatments included 0, 75, 150, and 225 pounds (lbs.) of N per acre (lb/ac). Soil samples were collected at pre-plant, mid-season, and post-harvest to measure mineral N (ammonium-N and nitrate-N) from the top 3 feet of soil in 1-ft increments.
Click here to read the FREP Blog post and learn the first-year results.
FREP is a CDFA program that funds and facilitates research to advance the environmentally safe and agronomically sound use and handling of fertilizing materials. It is part of the Feed, Fertilizer and Livestock Drugs Regulatory Services branch of CDFA's Division of Inspection Services.