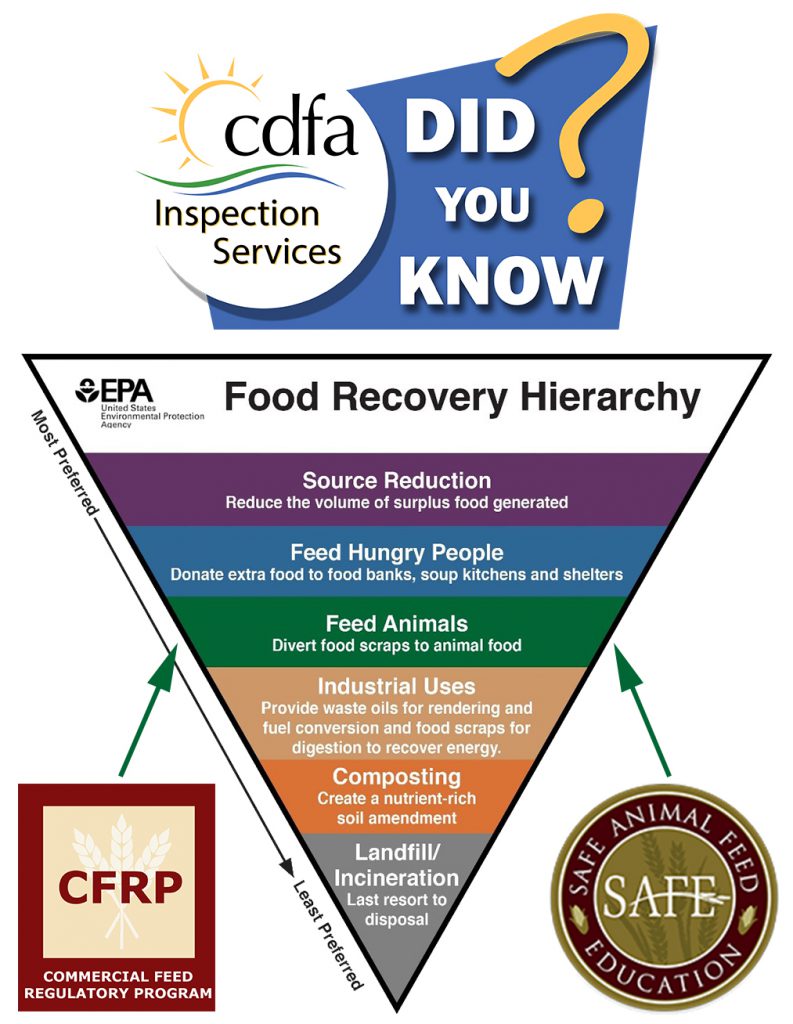 Did you know the California Department of Food and Agriculture (CDFA) Commercial Feed Regulatory Program (CFRP) recently changed tonnage tax reporting in the California feed industry to highlight the vital role of the diversion of human food by-products to animal food?
These changes will include expanded and specific reporting such as overall feed categories, specific feed or ingredient, and intended species. Human food by-product definitions for the California feed industry can be found on the CFRP website, and are categorized as: wet food processing waste; recovered retail food; restaurant food waste; and cull fruits and vegetables.
CFRP also is working diligently to publish regulations pertaining to the incentivization of licensing and tonnage tax reporting of by-products, including assessing licensees at a lower tonnage tax and license rate. Notification will be provided to the industry when the regulations are published.
Visit CDFA's Safe Animal Feed Education Program Human Food Waste (By-product) Diversion webpage for more information about how more than 12.5 million tons of by-product are currently being diverted to animal feed within California's livestock industry. The diversion of this tonnage that would otherwise be going to landfills demonstrates the feed industry's innovative recycling nature!
CFRP is part of CDFA's Feed, Fertilizer and Livestock Drugs Regulatory Services branch in the Division of Inspection Services.