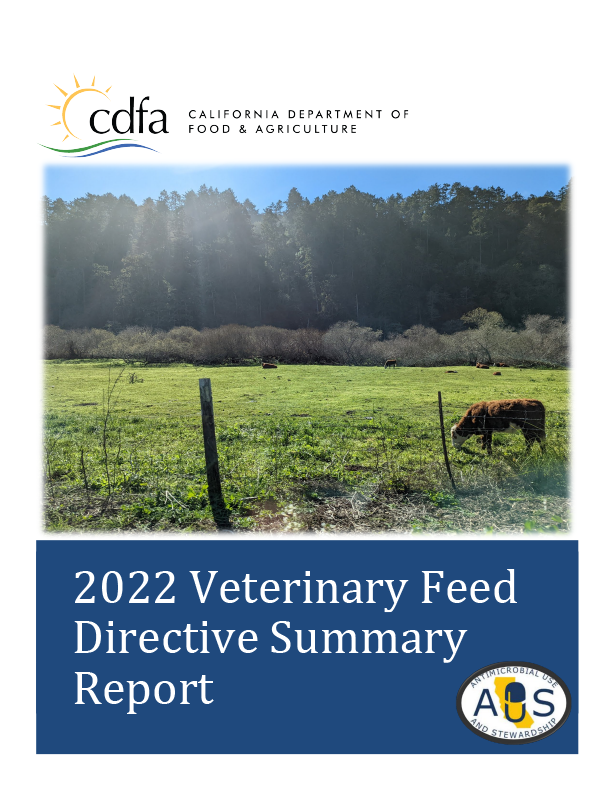 The California Department of Food and Agriculture (CDFA) Antimicrobial Use and Stewardship (AUS) Program announces the release of the 2022 Veterinary Feed Directive Summary Report.
This report presents an up-to-date illustration of Veterinary Feed Directive (VFD) feed manufacturing and distribution in California. The annual VFD Summary Report has been developed to provide a transparent and thorough explanation of the AUS program's involvement to ensure feed manufacturer / distributor compliance with state and federal VFD order mandates.
2022 Report highlights include:
Background, including general information, scope of reporting and processes for protecting confidential information
Data tables reporting VFD information by species, drug, indication type and amounts sold, as well as aggregated, informative visuals
Plans for the AUS program and future VFD collection/compliance
In conjunction with CDFA's Commercial Feed Regulatory Program, AUS collects VFD information on a quarterly basis from both manufacturers and distributors listed on the U.S. Food and Drug Administration's VFD Distributor Notification list. The information collected is held confidential in accordance with Food and Agricultural Code Section 14407.
Click here to view the 2022 Veterinary Feed Directive Summary Report.