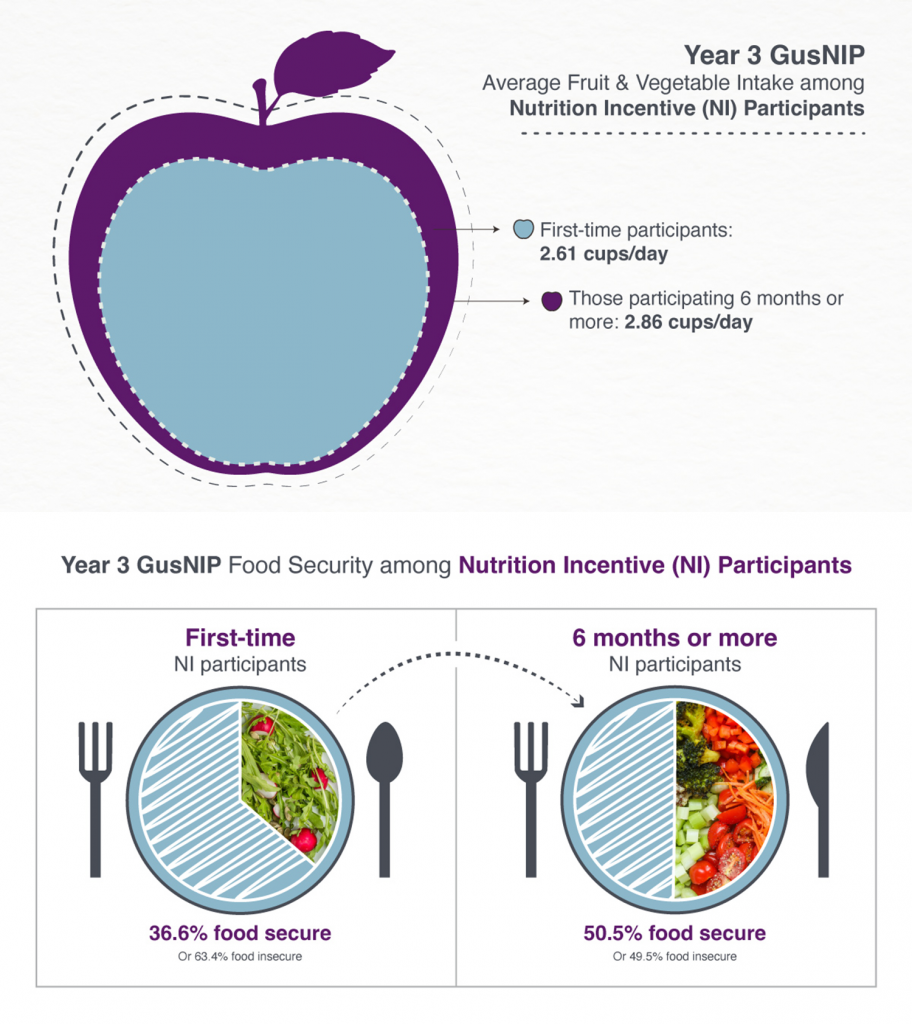 Two recently released reports detail how CDFA's California Nutrition Incentive Program (CNIP) improves opportunities for healthy diets and food security by helping more people purchase fruits and vegetables.
"CDFA is a proud partner in helping California's underserved populations afford healthy produce grown by our farmers," said CDFA Secretary Karen Ross "These reports from our state and national partners further demonstrate the importance of helping all Californians obtain access to a balanced and nutritious diet."
CNIP addresses food insecurity and access to fresh fruits and vegetables among low-income Californians while simultaneously supporting and expanding markets for California farmers. This is done by offering a dollar-for-dollar match for every nutrition benefit dollar spent on California-grown produce at participating Certified Farmers' Markets and other retail outlets, within specified parameters. CNIP supports shoppers using nutrition benefits such as CalFresh, the Special Supplemental Nutrition Program for Women, Infants and Children (WIC) Farmers Market Nutrition Program, and the Senior Farmers Market Nutrition Program.
CNIP funding comes from the State of California and the U.S. Department of Agriculture's Gus Schumacher Nutrition Incentive Program (GusNIP). A recent GusNIP evaluation found that participants receiving assistance through GusNIP projects reported higher fruit and vegetable intake than the average U.S. adult.
A recent University of California Agriculture and Natural Resources (UCANR) Nutrition Policy Institute study discovered through surveys and interviews with CalFresh shoppers and food store managers that CNIP influenced the kinds of fruits and vegetables shoppers bought and allowed them to buy more.
"I feel like the … program has incentivized us to buy locally grown produce," one CalFresh shopper told the Nutrition Policy Institute. "I also feel like the … program has made locally grown produce more affordable. And I most likely wouldn't have made the effort to choose those products before."
CNIP has "enabled me to double my purchases," another CalFresh shopper said. "Not only can I get my regular staples, but I can also try new products or new fruits and vegetables that I never thought to use in my everyday cooking."
"Everyone in the store really likes the program," a store manager told the Nutrition Policy Institute. "It feels good to press that button and see $20 come off someone's produce bill."
Click here to learn more about CDFA's California Nutrition Incentive Program.