A new research update on an ongoing California Department of Food and Agriculture (CDFA) Fertilizer Research and Education Program (FREP) project "Next Generation Nitrogen Management Training for Certified Crop Advisors" has been published to the FREP blog.
The FREP-funded project developed a nitrogen (N) and irrigation management curriculum and created an online video training to prepare Certified Crop Advisors (CCAs) for the standardized exam to obtain the California N Management Specialty certification (CA-NSp). The overall goal of the training is to highlight best N and irrigation management practices and prepare new CCAs to make informed recommendations to growers that improve crop productivity while reducing environmental impacts.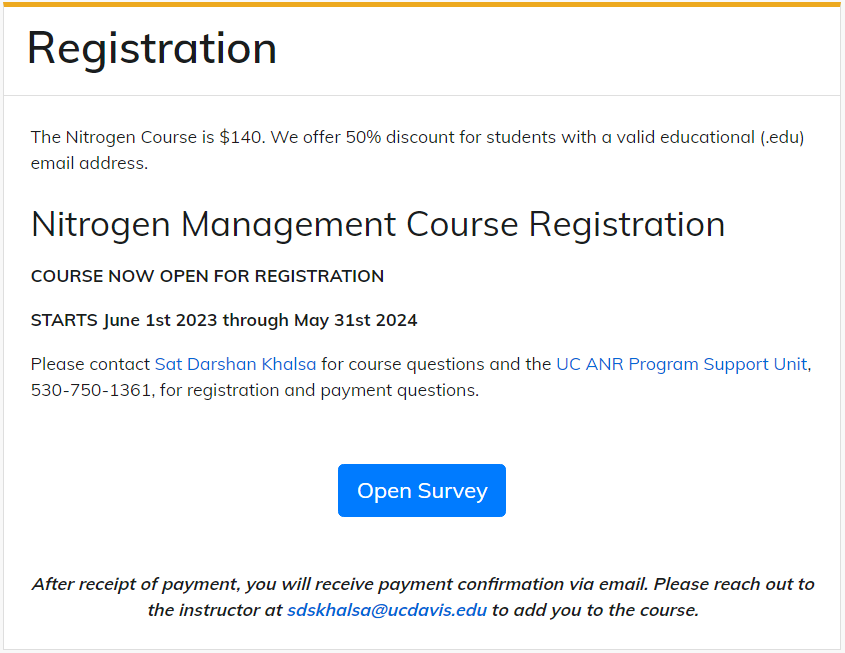 The online N Management Training for CCAs is open for enrollment between June 1, 2023, and May 31, 2024. The self-paced course covers N and irrigation management practices that reduce environmental impacts while maintaining crop productivity. Participants receive access to online videos covering a variety of N-related topics, including N cycling, sources, budgeting, and dynamics in California (CA) cropping systems; the environmental impacts of N loss; irrigation management; and barriers to adoption of environmental practices. The course offers 10 hours of CCA continuing education credits. While the course is designed for CCAs, anyone interested in learning more about N and irrigation management in California agriculture is welcome to participate.
Click here to register for the UC Davis N Management Training for CCAs.
Click here to view the full FREP blog with more information about the project.