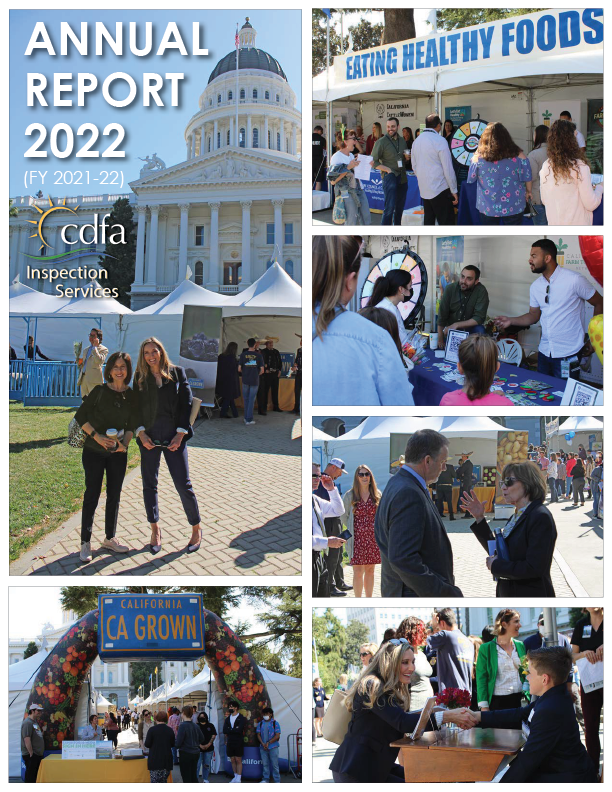 The California Department of Food and Agriculture (CDFA) announces the release of its Inspection Services Division Annual Report 2022.
The annual report offers an overview of Inspection Services Division's (ISD) programs, boards and committees, fiscal year expenditures, mission, vision, goals and strategic direction. Photos, graphics and brief descriptions highlights how each ISD branch throughout the year helped to promote and protect resilient food systems, ensure environmentally sound agricultural practices and build equity for all in California.
Highlights include:
Helping Salinas Valley agricultural neighbors join resources for food safety efforts that aim to stay on the cutting edge of innovation
Working with stakeholders to develop a California farm to school roadmap that reimagines and advances nutrition opportunities
Improving efficiency and customer satisfaction by upgrading Center for Analytical Chemistry processes, technology and equipment
"We have an amazing team of thinkers and innovators whose work I encourage you to explore," Division Director Natalie Krout-Greenberg states in the report's opening pages. "As we reflect on the past and look ahead to the future, we make an ongoing commitment to do right by one another and to do right by the future generations to come."
Click here to view the CDFA Division of Inspection Services Annual Report 2022 (FY 2021-22).