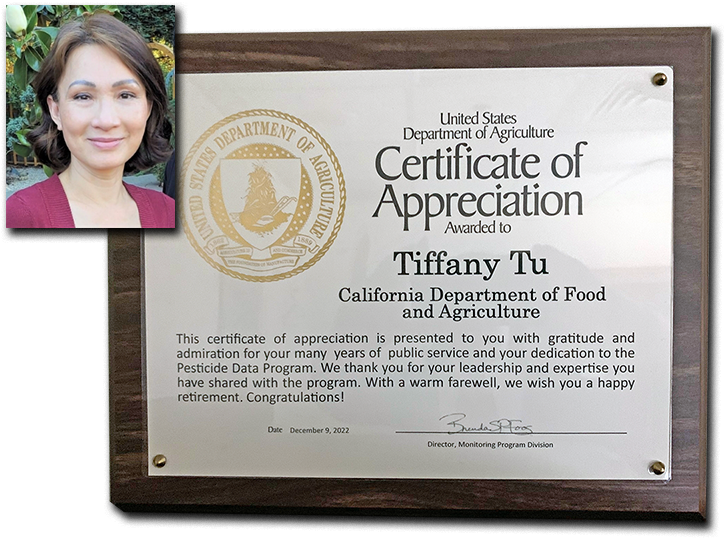 The U.S. Department of Agriculture (USDA) has presented a certificate of appreciation to retiring CDFA Analytical Chemistry (CAC) Food Safety Program Environmental Program Manager Tiffany Tu. The award reads, in part, "This certificate of appreciation is presented to you with gratitude and admiration for your many years of public service and your dedication to the Pesticide Data Program. We thank you for your leadership and expertise you have shared with the program."
Tu is retiring after 33 years of public service, all with Center for Analytical Chemistry. Through her work, Tu partnered with the USDA Pesticide Data Program (USDA-PDP), a national pesticide residue monitoring program comprised of seven state laboratories that sample, test and report pesticide residues on agricultural commodities in the U.S. food supply.
USDA-PDP data is primarily used by the U.S. Environmental Protection Agency as the essential dietary exposure component of risk assessment that is part of the pesticide registration review and tolerance reassessment process mandated by the Food Quality Protection Act. The data also is used for worldwide marketing of U.S-grown produce.
"Being a part of the USDA-PDP team gave me the opportunity to connect to policymakers, enforcement agencies, and national and international lab partners," Tu said. "The knowledge and experience helped shape the CAC Food Safety Program's quality system framework – one that generates the highest quality data for food surveillance and monitoring – and created a culture of innovation and creativity."
"A total of 126 commodities, fresh and processed, have been tested by PDP lab participants since USDA-PDP began," Tu said. "PDP data are well regarded as the gold standard and used by many food safety organizations worldwide."
"The USDA certificate of appreciation is an affirmation of the entire CAC Food Safety team's important contribution toward the USDA-PDP over the years," she added. "It's always been the workforce behind the program that truly made it a transformative success. This significant award recognizes our valuable input to the USDA-PDP and it encourages the team to maintain a culture with an innovative mindset that enables our team to grow. I am so proud of the team and our achievement. It has been such a privilege to work alongside a smart and talented group of people."
The Center for Analytical Chemistry is a branch of CDFA's Division of Inspection Services.
Click here to view this original post on CDFA's Planting Seeds blog.