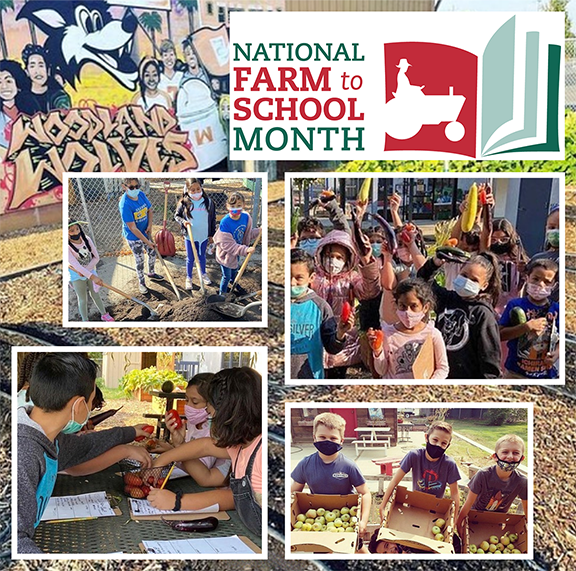 CDFA invites all Californians to join in celebrating October as National Farm to School Month.
Supported by the National Farm to School Network, this is a month for thousands of schools, early care education sites, farms, communities, and organizations across the country to celebrate food education, school gardens, and lunch trays filled with healthy, local ingredients.
It's also a time for the CDFA Farm to School Program to celebrate grantees of the California Farm to School Incubator Grant Program. Through the support of Governor Newsom and the California Legislature, $8.5 million in grant funding was awarded to 60 farm to school projects across the state in 2021. This funding is supporting local and regional farm to school projects that promote nutrition education, sustainable food production and procurement, and high-quality student experiences. Stay tuned for CDFA announcements coming soon about grantees in the 2022 California Fam to School Incubator Grant Program that will support projects that cultivate equity, nurture students, build climate resilience, and create scalable and sustainable change.
California is a leader in farm to school efforts as First Partner Jennifer Siebel Newsom and CDFA Secretary Karen Ross convened the Farm to School Interagency Working Group and Advisory Committee to establish an equitable, resilient and scalable California farm to school movement. These groups' efforts led to the release earlier this year of "Planting the Seed: Farm to School Roadmap for Success." The roadmap offers tips to connect children to locally sourced whole foods in the cafeteria, classroom and garden, and it also provides critical resources to cultivate healthier, climate-smart, and more equitable communities.
"CDFA is proud to be one of the many statewide partners supporting farm to school efforts to connect students from every background with healthy, locally grown food to increase consumption of fruits and vegetables," said Secretary Ross. "This leads to enhanced academic achievement, a lifelong relationship with nutritious food, and a connection to California's many farmers and ranchers."
Click here to view this original post on the CDFA Planting Seeds blog.