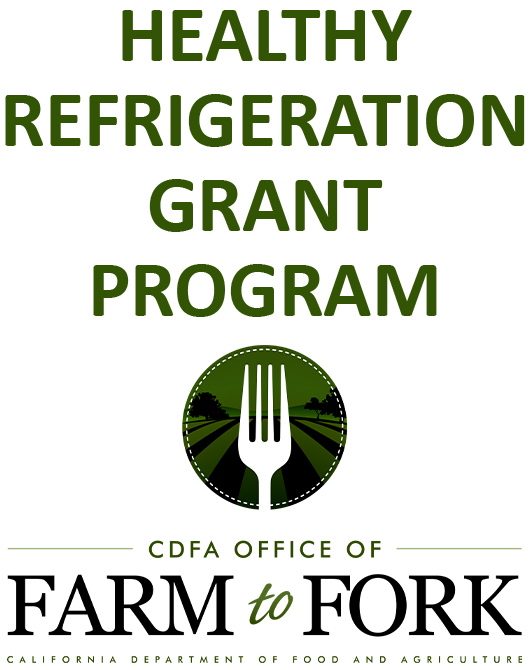 The California Department of Food and Agriculture Office of Farm to Fork (CDFA-F2F) announces $900,000 in grants are being awarded for technical assistance providers (TAPs) to expand access to the Healthy Refrigeration Grant Program (HRGP) and provide technical support to applicants.

Grant recipients include the California Green Business Network; Community Environmental Council; Contra Costa Health Services; County of San Diego Agriculture, Weights & Measures; Effecterra; High Sierra Energy Foundation; and Porchlight Community Services. Visit the HRGP webpage for further details about each awardee, including the areas they serve.

"This program is focused on improving access to fresh and nutritious California-grown food for all Californians," said CDFA Secretary Karen Ross. "We thank Governor Newsom and the California Legislature for making funds available to support our local farmers and the health and resiliency of local communities."

HRGP funds energy-efficient refrigeration equipment in corner stores, small businesses, and food donation programs in low-income and low-food-access communities. HRGP grants enable recipients to stock California-grown produce, nuts, dairy, meat and eggs, in addition to minimally processed and culturally appropriate foods.
 
Through these TAP grants, CDFA-F2F is working to reduce barriers to participation in HRGP and mitigate some of the challenges faced by applicants during the pilot phase of the program, via the following two categories:
Outreach and Application Assistance: Promote the program to eligible applicants and assist with equipment applications, especially in multiple languages.
Technical Expertise: Help applicants identify the best refrigeration choices, meet energy efficiency and global warming potential standards, and offer "healthy retail" support to help corner stores market fresh produce.
This $900,000 for technical assistance is a portion of the total $20 million in HRGP funding from combined fiscal year (FY) 2021-22 and FY 2022-23 state budget allocations. The next round of CDFA accepting applications from entities in low-income or low-food access areas seeking refrigeration equipment through HRGP is planned for December 2022.
Read this original announcement on the CDFA press release channel.