The California Department of Food and Agriculture (CDFA) Commercial Feed Regulatory Program (CFRP) announces the release of its Winter 2022 Quarterly Feed Update. Click here to view the newsletter.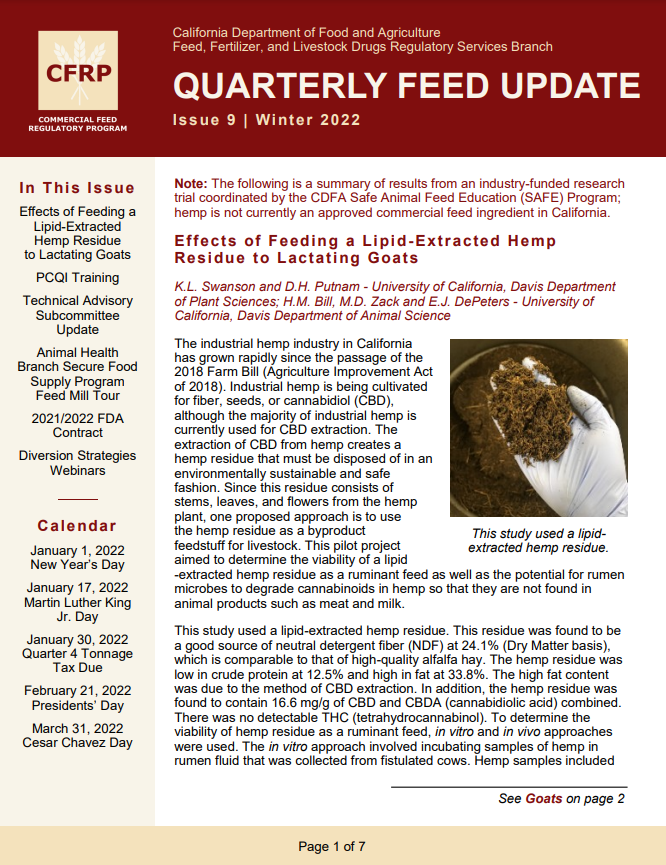 Highlights include:
Results of a research trial on the effects of feeding lipid-extracted hemp residue to lactating goats
Details on food safety Preventive Controls Qualified Individual (PCQI) training
Feed Inspection Advisory Board (FIAB) Technical Advisory Subcommittee update
Members of the Animal Health Branch Secure Food Supply Program touring a California livestock feed mill
CFRP finalizes 2021/2022 animal food safety contract with the U.S. Food and Drug Administration
CFRP participation in Diversion Strategy webinars available to view online
CFRP is part of the Feed, Fertilizer and Livestock Drugs Regulatory Services Branch of CDFA's Division of Inspection Services.