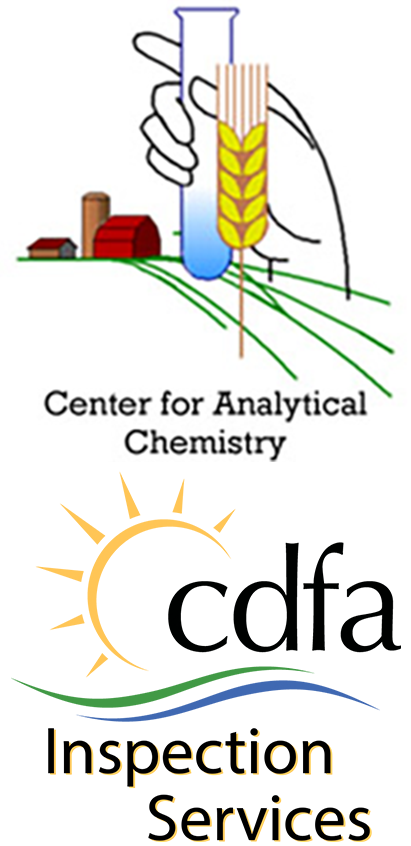 The California Department of Food and Agriculture (CDFA) joins the U.S. Department of Agriculture (USDA) in celebrating the 30th anniversary of the Agricultural Marketing Service Pesticide Data Program (PDP). CDFA's Center for Analytical Chemistry (CAC) Food Safety group has partnered with PDP since its inception in 1991.
PDP is a federal partnership with nine states that monitors pesticide residues in the U.S. food supply. PDP data helps demonstrate the high quality of the U.S. food supply — analyses show that pesticide residues are lower than the limits established by the U.S. Environmental Protection Agency in nearly all food samples (typically >99%).
The partnership between the agencies started with a screening list of 28 pesticide compounds. It has since expanded the scope to detect and quantify more than 515 compounds.
Partnering in this project has helped the CAC Food Safety program model its quality system framework into one that generates the highest-quality data for enforcement and regulatory purposes. Innovation was fostered through CAC scientists applying novel analytical methods and custom-made software to automate data processing and review.
"These endeavors opened doors to continuous technical improvement and enabled us to significantly increase our capability to generate high-quality, defensible data in a fast-turnaround work environment," said CAC Environmental Program Manager Tiffany Tu. "The benefit gained from collaborating with other agencies in the pesticide analysis field in impactful scientific projects helped further our goal of being in the forefront of the pesticide analysis arena, which also ensures CAC Food Safety program's relevance in our mission of promoting and protecting California agriculture."
CDFA's Center for Analytical Chemistry is a branch of the  Inspection Services Division.