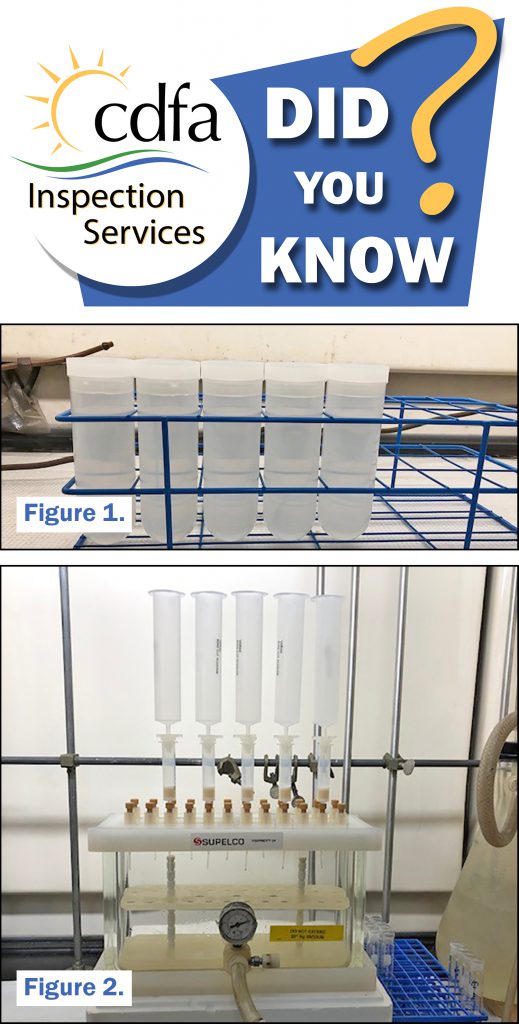 Did you know the California Department of Food and Agriculture (CDFA) Environmental Safety Laboratory recently developed a surface water monitoring technique that is faster, simpler and detects more compounds?
Historically, the lab applied a liquid extraction technique to determine 59 compounds in surface water. The lab now uses a novel solid phase extraction (SPE) technique to determine 67 compounds.
Moreover, the new SPE technique needs less sample volume (100 ml vs. 1,000 ml) and solvent volume (35 ml vs. 1,000 ml) for extraction, making it more environmentally friendly.
Through utilizing state-of-the-art lab equipment, the parameters were recorded, the technique was validated and the application of the method in real samples showed excellent performance. Results proved that the method is adequate for utilization in routine analysis for all water samples.
The Environmental Safety Laboratory is part of the Center for Analytical Chemistry in CDFA's Inspection Services Division.