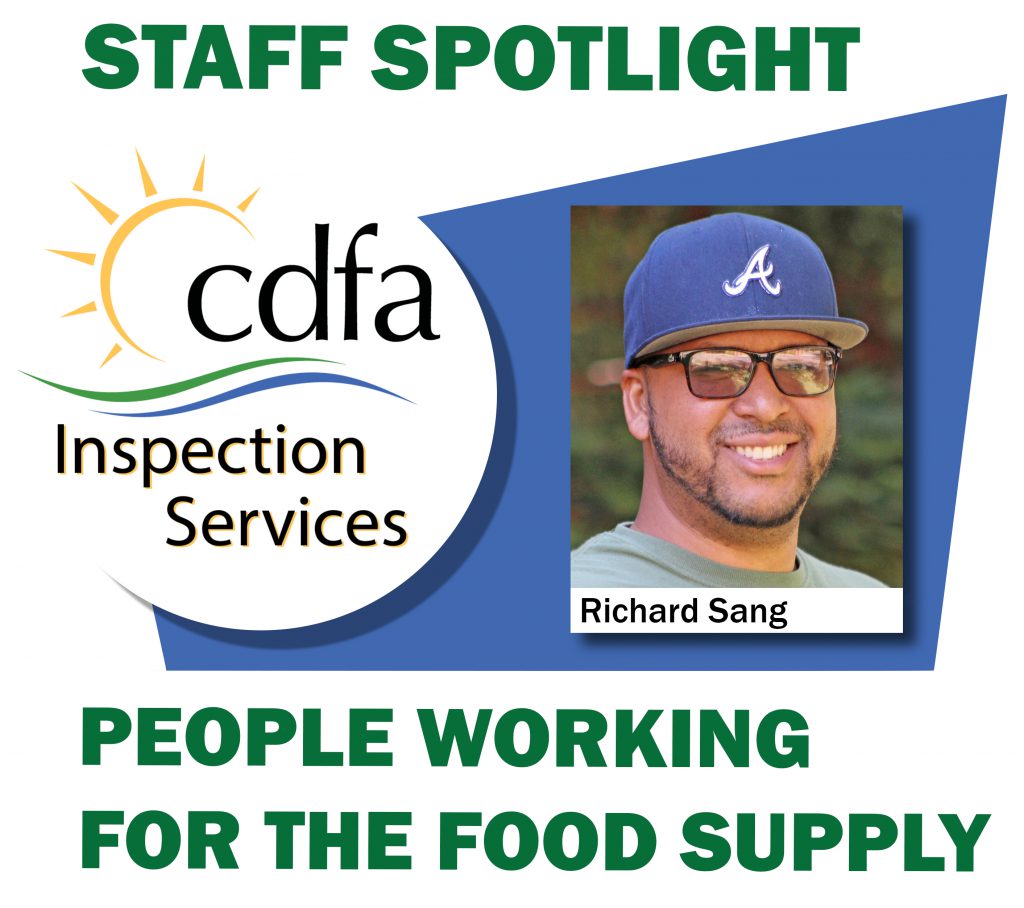 NAME: Richard Sang
YEARS AT CDFA: 11
PROGRAM: Inspection & Compliance Branch – Shipping Point Inspection Program
TITLE: Staff Services Analyst
USUAL DAILY ACTIVITIES: Maintaining the billing system; generating invoices and account statements; performing account reconciliations; maintaining accounts receivable files and records; producing monthly financial and management reports; investigating and resolving any irregularities or inquiries; and assisting in general financial management and analysis.
HOW DO YOU WORK FOR THE CALIFORNIA FOOD SUPPLY? I provide administrative assistance to the CDFA Shipping Point Inspection field offices that work directly with producers and processors at packing houses and processing plants. My role is to ensure that the accounts for our industry are in good standing and that all receivables are collected and paid in full.
MEMORABLE MOMENT ON THE JOB: Touring a packing facility for a major company that is serviced by our program and seeing the frontline work that is done within the facility. It was fascinating to witness the start-to-finish flow of how fruit comes from the field to the processing facility, to the boxes, then to the trucks and out the building for shipment.
THOUGHTS ON WORKING AT INSPECTION SERVICES: The atmosphere is great; I love the interactions and relationships formed through the years, especially during the many activities scheduled throughout each year.
ANYTHING ELSE YOU'D LIKE TO SAY? I look forward to continuing my state service time with Inspection Services, knowing the impact we have on the industry and the effectual changes that are to come within my own program is exciting and something I am proud to be a part of. This pandemic has given me a renewed perspective and appreciation for the things I have and given me greater hope for the future to come.