Project Title: "Understanding Influences on Grower Decision-Making and Adoption of Improved Nitrogen Management Practices"
Project Leaders: Mark Lubell, Department of Environmental Science and Policy, and Patrick Brown, Department of Plant Sciences, University of California, Davis.
Location: Sacramento and San Joaquin Valleys
Issue: Nitrogen best management practices (BMPs), such as applying fertilizers at the right time, right rate, right place and in the right form, "the 4 R's", and soil and leaf sampling, are key to managing crop productivity. Practices such as these and many other promising BMPs have been coming out of  research-based projects for more than a decade. Many of these practices have benefits that are both economic and environmental, so what is preventing their implementation?
With a grant from the Fertilizer Research and Education Program (FREP), a team of researchers from the University of California, Davis has been collaborating with Water Quality Coalitions in the Central Valley to explore the key barriers to implement practices that increase nutrient use efficiency. This project also aims to establish a baseline of current practices that can be used to measure progress with practice adoption.
Methods: The first phase of the project is aimed at gathering information on current management practice adoptions levels, perceived risks, knowledge gaps and decision-making processes. Researchers assessed the use of improved nitrogen management practices by surveying growers in two Central Valley Water Quality Coalitions. The survey questions focused on the use of the following practices and their barriers to adoption.
Fertilizer practices: Use a nitrogen budget to determine fertilizer rates; split fertilizer applications; verify plant nutrient status with in-season leaf sampling
Soil practices: Take soil samples to measure residual nitrate; apply organic matter (compost or manure); plant cover crops
Irrigation practices: Schedule irrigation by measuring plant-water status or using evapotranspiration (ET) measurements; use soil moisture sensors; test irrigation systems for distribution uniformity
 Preliminary Results: The following data were collected from 565 growers over the course of seven grower education meetings. The two Central Valley Water Quality Coalitions, represent approximately 8,000 growers and 1.6 million acres of irrigated farmland in the Central Valley.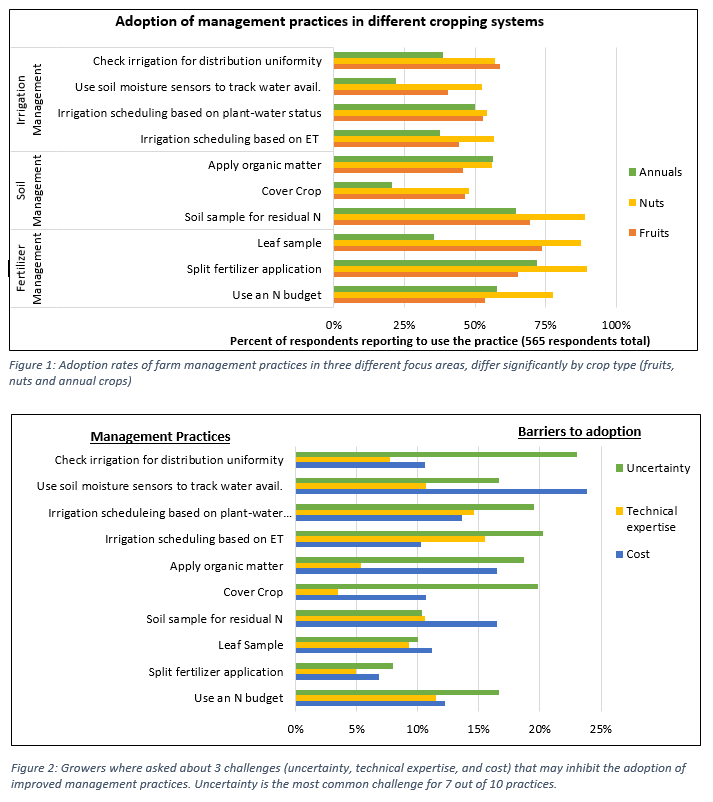 Discussion: Preliminary results indicate that growers operating on large parcels, and in perennial crop systems reported higher adoption rates for nearly all practices and named fewer challenges to adoption. Uncertainty was the most common barrier identified for seven out of ten practices. This illustrates the importance and demand for outreach and education around nitrogen management practices. Messaging to farmers should address the risks and benefits associated with BMPs and technical workshops are essential in aiding on-farm implementation. The potential for improving yield and crop quality are the largest recognized benefits and should be emphasized in outreach materials.
This information and more was also gleaned through a series of interviews with twenty growers who participated in the initial survey. Growers emphasized the importance of outreach and extension and cited issues with lack of clarity around nitrogen regulations and policy.

Next Steps: The second phase of the project will be an expanded survey designed to assess social, political, and economic factors influencing decision-making and adoption of improved N management practices. Surveys were mailed out to the Colusa-Glenn Sub watershed of the Sacramento Valley Water Quality Coalition, in February 2018 and will be distributed to growers in the San Joaquin County and Delta Water Quality Coalition and East San Joaquin Water Quality Coalition regions in June 2018. If you receive a survey in the mail, please take the opportunity to respond.