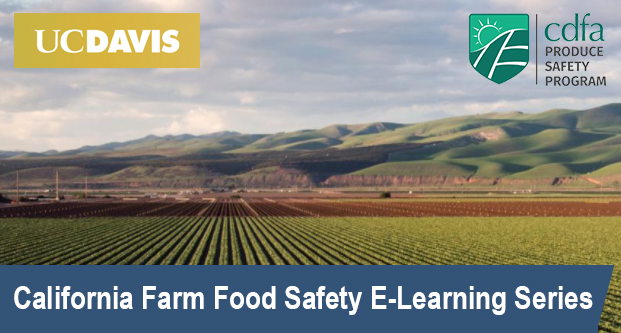 Register now to attend three free, online courses starting this week about production agricultural water. These courses are part of the California Farm Food Safety E-Learning series created by the UC Davis Department of Food Science and Technology, funded by the California Department of Food and Agriculture Produce Safety Program. Also visit the UC Davis website to view session recordings from the initial sessions in this series about biological soil amendments of animal origin (BSAAO).
In all sessions, several speakers provide short presentations during a two-hour window with time dedicated to answering questions from participants. Pre-registration is required for the free sessions held online via Zoom.
The Production Agricultural Water Series starting May 13 will provide information on risks associated with production agricultural water, current best practices for agricultural water management, treatment options for agricultural water, and updates on agricultural water requirements in the Food Safety Modernization Act Produce Safety Rule. This series is tailored to Californians, with specific agricultural water regulatory and enforcement information relevant to California growers.
Session 1: 1-3 p.m. May 13 – Assessing on-farm risks associated with agricultural water systems
Session 2: 1-3 p.m. May 20 – Introduction to options for treating agricultural water
Session 3: 10 a.m. to 12 p.m. June 17 – Update on agricultural water requirements within the Produce Safety Rule (tentative topic, pending availability of proposed revisions)
The BSAAO Series provided information about the benefits and risks of BSAAO use during production. This series was tailored to Californians, with specific regulatory and enforcement information relevant to California growers.