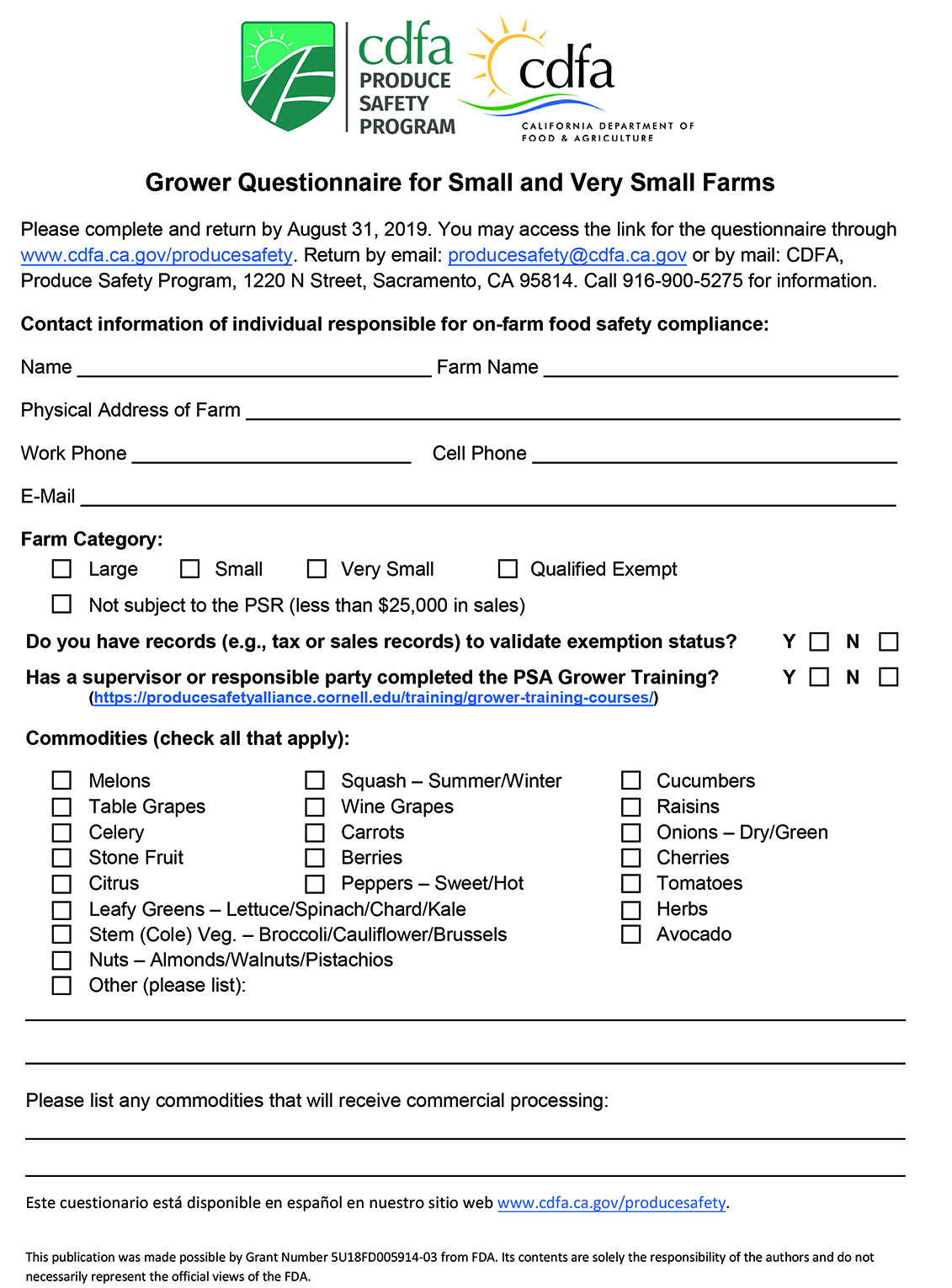 SACRAMENTO, July 25, 2019 – The California Department of Food and Agriculture (CDFA) is announcing that starting next week, 8,000 "small" and "very small" produce farms throughout California are being mailed educational letters about their roles in upholding the Produce Safety Rule (PSR) of the federal Food Safety Modernization Act (FSMA), passed in 2011 to help prevent foodborne illness outbreaks. Accompanying the letters are questionnaires to be returned to the CDFA by August 31 in order to verify commodities grown, determine whether annual sales qualify farms for a PSR exemption, and to help prioritize future inspections. The current stage of inspections to verify PSR compliance has been taking place since April for "large" farms.

"California has many more produce farms than any other state in the nation," said CDFA Secretary Karen Ross. "Approximately 20,000 farms in the Golden State will now be subject to new food safety regulations under the Produce Safety Rule."

PSR regulations include ensuring produce is properly handled by workers, that farm equipment is sanitary, that produce is grown with safe soil inputs, and that measures are in place to prevent contamination of produce by wildlife or domesticated animals. These regulations are similar to food safety plans that many farmers have been implementing for years, and that most grocery stores and restaurants already require. However, the Produce Safety Rule now makes food safety on farms federal law.

To help implement the PSR, CDFA created the Produce Safety Program (PSP) to educate farmers and then conduct on-farm inspections on behalf of the U.S. Food and Drug Administration (FDA). PSP farmer education resources include a website, a Facebook page and an e-newsletter. Website features include the ability to schedule an On-Farm Readiness Review, and to register for a Produce Safety Rule Grower Training Course. This course is mandatory for at least one employee of every produce farm covered under the new regulations and is the best way for farmers to learn about required food safety practices.

In the current PSR stage:
Inspections are underway for "large" produce farms with average annual sales of $500,000 or greater during the previous three-year period.
"Small" farms with average annual sales of $250,000–$500,000 during the previous three-year period are now expected to be in PSR compliance, with inspections set to begin in January 2020.
"Very small" farms with average annual sales of $25,000–$250,000 during the previous three-year period must be in general compliance by January 2020, with inspections set to begin in January 2021.


Any farm that does not comply with the Produce Safety Rule may face economic, regulatory and legal consequences. Minor violations will be handled through on-site education, in line with an "Educate Then Regulate" commitment. However, if there is significant and imminent threat to public health, a PSP inspector will inform the FDA and the California Department of Public Health, which may perform accelerated on-farm follow-up inspections or administrative detention orders up to and including seizure of the product that could cause people to get sick.
 
Visit www.cdfa.ca.gov/producesafety