In California agriculture, there has been a gradual shift from gravity-fed irrigation to pressurized systems including micro-irrigation. Micro-irrigation systems have been implemented in over 60% of irrigated acreage in California and support a more intensively managed production system.
The use of pressurized irrigation systems has made significant advancements possible, including more precise delivery of chemicals and nutrients to crops. Chemigation is the application of any chemical through irrigation water and can include the injection of insecticides, fumigants, fertilizers, soil amendments, and other compounds. Fertigation (the injection of fertilizer into the irrigation system) is the most common of these applications.
Despite an abundance of research articles and books available on fertilizers and plant nutrient uptake, there are few resources focused specifically on the application of fertilizers through pressurized irrigation systems. The book Fertigation was developed by California Polytechnic University's Irrigation Training and Research Center (ITRC) over 20 years ago and has served as a technical guide for fertigation management practices. Since then, the industry and technology have been rapidly evolving.
In late 2018, the ITRC, with funding provided by the California Department of Food and Agriculture's Fertilizer Research and Education Program (FREP), released an updated version of the Fertigation book followed by a series of short courses available to industry. Below you will find information regarding the book and irrigation trainings offered by the ITRC.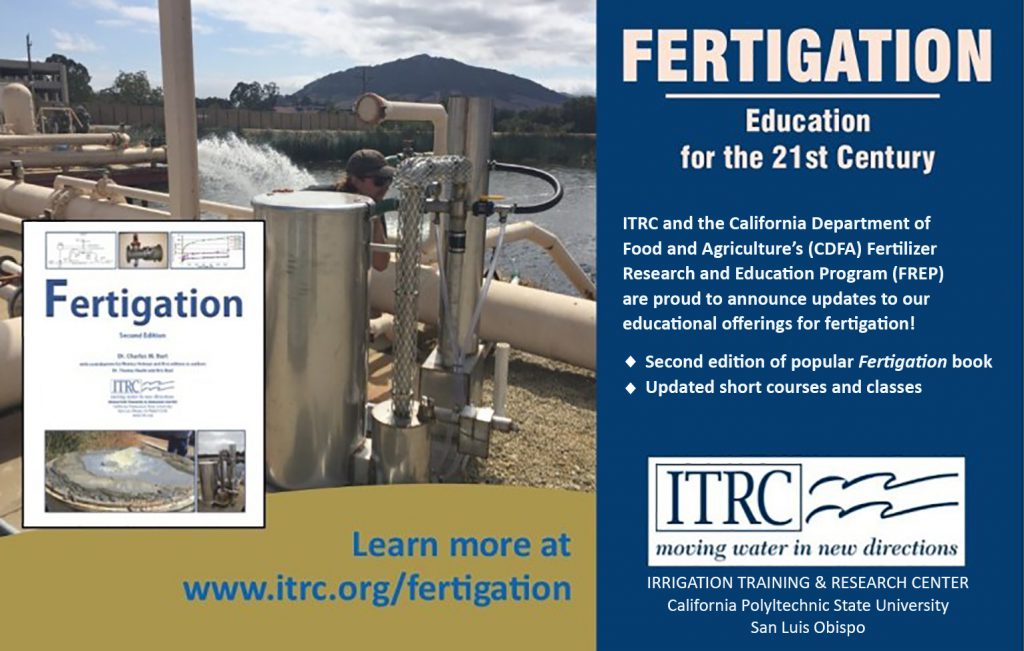 Fertigation Book
What: Included are detailed descriptions of injection hardware and techniques, back flow prevention; N, P, K and injection; drip system maintenance, gypsum injection; and specifications for various irrigation methods.
Cost: $70
http://www.itrc.org/publications.htm
Agriculture Irrigation Courses
What: The ITRC offers several technical training courses for agriculture irrigation. These courses provide information on irrigation scheduling, managing salinity and drainage, fertigation, design and management of various irrigation systems, and system troubleshooting. Seating is available on a first-come, first-served basis.
Registration: http://www.itrc.org/classes/desmgr.htm