The 29th Fertilizer Research and Education Program (FREP) and Western Plant Health (WPH) Nutrient Management Conference was held in San Luis Obispo, CA, October 27-28, 2021. The conference had over 100 attendees including crop consultants, growers, industry representatives, researchers, and government personnel.
This blog provides a quick recap of the event. For more detailed information, including summaries from presented FREP projects, check out the 2021 Conference Proceedings on the California Department of Food and Agriculture (CDFA) FREP webpage at https://www.cdfa.ca.gov/is/ffldrs/frep/pdfs/2021_proceedings_10222021.pdf. Conference protocols adhered to state and local health guidelines.
Pre-Conference Tour
The conference started off with a tour at California Polytechnic State University, San Luis Obispo (Cal Poly SLO), the afternoon of October 26, 2021. During the tour, attendees had the opportunity to learn about ongoing research and activities at Cal Poly's Strawberry Center and Organic Farm. Attendees also had the chance to see Cal Poly's new Justin and J. Lohr Center for Wine and Viticulture with a newly established bio-digester system. 

Conference Day One
Karen Ross, Secretary of CDFA, and Renee Pinel, President/CEO of WPH, welcomed attendees to the 29th Nutrient Management Conference. Their warm welcome was followed by a morning of presentations and discussions facilitated by Dr. Rob Mikkelsen, Director of Agronomic Services, Yara International. The morning presentations included:
Understanding Grower and Technical Advisor Decision-Making on the Adoption of Nitrogen Management Practices
Dr. Sat Darshan Khalsa, University of California, Davis (UC Davis)
A System Nitrogen Balance for Container Plant Production
Bruno Pitton, UC Davis
Efficient Water and Nitrogen Practices for Mixed Leafy Baby Greens in the Desert
Dr. Charles Sanchez, University of Arizona
Open ET: Operational Evapotranspiration Data for Water Management in the West
Forrest Melton, National Aeronautics and Space Administration (NASA) Ames Research Center
The afternoon of day one featured a panel titled "The Evolving Role of Coalitions in the Irrigated Lands Regulatory Program." Panelists discussed opportunities provided by the water quality coalitions for their members and how their role and engagement with growers is evolving as water quality regulations impact growers and their operations.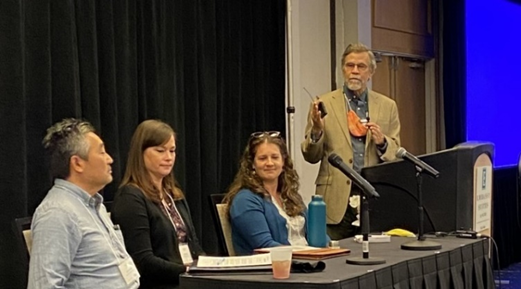 Day one was wrapped up with a series of hands-on workshops and a poster session showcasing ongoing research and outreach projects. The Western Region Certified Crop Adviser Board and Cal Poly's Irrigation Training and Research Center (ITRC) were also present at the poster session to showcase their programs.
Conference Day 2
In day two, Dr. Jerome Pier (QualiTech) welcomed attendees and facilitated presentations, which included:
Pima Cotton Nitrogen Management, Uptake, Removal – Impacts of Varieties, Subsurface Drip & Furrow Irrigation
Dr. Bob Hutmacher, UCANR
Deficit Irrigation Impacts on Yield and Grape Quality
Dr. Kaan Kurtural, UC Davis
Biostimulants: What are they and how do they function to improve the efficiency of nutrient use?
Dr. Patrick Brown, UC Davis
Evaluation of Biochar for On-Farm Soil Management in California
Dr. Sanjai Parikh, UC Davis
Training on Crop Management that Integrates Climate, Soil and Irrigation System Data to Minimize Nutrient Loss and Optimize Irrigation Efficiency
Trina Walley, East Stanislaus Resource Conservation District
What's the story about calcium? Needed or not?
Dr. Rob Mikkelsen, Yara International
To learn more about ongoing research projects presented at this year's FREP/WPH Nutrient Management Conference please visit the FREP Conference Proceedings Page to view the 2021 Conference Proceedings.